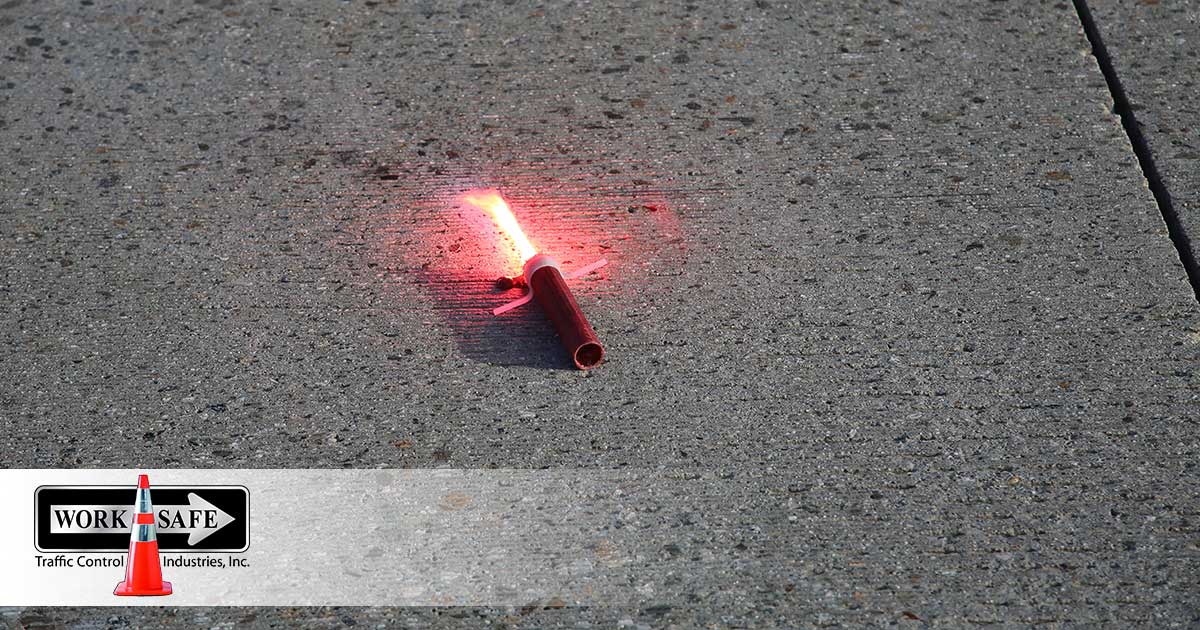 Road flares for temporary traffic control are used when construction, accidents, work zones, or downed tree limbs or power lines create a need to alert drivers to a changed traffic pattern. The most effective type of road flare will be clearly seen at night or during low-visibility conditions such as snow or rainstorms.
Flares are also used for non-emergency situations, such as to provide lighting at campsites and coastline outings. The traditional flare stick is an Incendiary or burning-type flare that has been used in emergency situations for over a century.
Like most other technologies, the digital age has transformed the burning road flare into a safer, brighter, and more effective flare that is found in the LED Flare.
Challenges of the Traditional Flare Stick
The traditional road flare stick must be physically lit, similar to how a match stick is lit. The flare top must be rubbed against the coarse striking cap resulting in a molten material being sprayed from the device. The incendiary device must be kept away from the face, hair, clothing, and ignitable liquids like gasoline.
These original roadside flare stick devices have changed very little over the decades. In addition to the risk of being burned, the corrosive nature of these flares means that they give off a dense and toxic smoke that can be hazardous to health, can irritate the eyes and can burn clothing or skin.
The traditional flare stick must be handled with care, and many safety practices should be observed as for any pyrotechnic device. They also have a limited shelf life and must be disposed of after 2-1/2 years if not used.
The Safe and Most Effective LED Flare
The most effective type of flare for temporary traffic control is the LED flare. Instead of being a pyrotechnic device, it is an electronic device that has the same effect (or better) as a safety flare stick. While they are called flares, they are actually strong and powerful LED lights that can glow as bright as an actual fire.
Here are the many benefits of LED flares for temporary traffic control:
LED flares work in all weather conditions
During low visibility conditions like rain, blizzards, or fog, LED flares work exceptionally well. They are typically IP67 waterproofed which means the LED housing is sealed against water and dust, while also being able to float.
Easier to locate nearer vehicles
LED flares may come provided with a strong Neodymium magnet, which means the flares can not only be set on the ground to pre-warn oncoming motorists, but they can also stick to the metal exterior of the truck or car. This is a great improvement over the flare stick which must remain some distance from the vehicle for safety reasons.
LEDs are highly visible
Even the most modest design of LED flares can be seen at 3000 feet away at night and about 1000 feet during the day. They also be designed with different light modes which include color change or strobe effect. LEDs use very little electricity, so expect an average LED flare to off about 3 days of battery life.
Versatile for many applications
LED road flares are often designed to be used as a flashlight, which can be convenient when changing a tire at night. They also have a functional design where they can be hung from a surface, placed flat on a surface, and can be clearly seen when mounted in any of these positions.
Partner with Worksafe Traffic Control Industries
While you can count on a LED flare to operate as intended, the same cannot be said of a flare stick. Always place the LED road flare along the path leading up to road work or disable vehicle. Sometimes, the LED flares can also be used to highlight the path that returns drivers to the normal traffic lanes.
Partner with Worksafe Traffic Control Industries for the widest range of temporary traffic control devices. We carry rechargeable LED road flares, so you never have to worry if your traffic safety devices are going to work during the night, rain, fog, or snow.
Our products are built for utility, construction, and roadside work projects. That means they are designed to be tough – crushproof, shatterproof, and waterproof.