TrafFix Water-Filled Traffic Barriers
Worksafe Traffic Control Industries has been in operation for almost a quarter-century, and throughout the years, we have earned an enviable reputation in our field of road signage and safety. We strive to offer the finest and most flexible signs and construction barriers that may be utilized for a wide range of traffic control applications, especially in work zones. We anticipate being in business for decades to come, so we will provide the materials needed for our clients to keep roads and properties safe.
Over the past decade, there has been significant growth in the deployment of water-filled barriers in urban and arterial road construction sites. Water-filled barriers have become the de-facto choice. Let's delve deeper and learn more about water-filled barriers and including our unique Traffix Water-Wall™.
Water Filled Barriers
As a safety essential, water-filled barriers offer an excellent compromise of providing a physical barrier that offers both worker protection and reduced risk to passengers and drivers in the event of accidents. With their rigid barriers, which can be interlocked to create straight lines and right and left curves, water-filled barriers cross the divide between keeping road workers and road users safe. They are fit for safety, built for purpose, and minimize risk to those on either side of the barrier- whether passing the work zone or working as part of it.
While statistics show that there are higher incidences of injuries and accidents in road work zones for passengers and drivers, using adequate water-filled barriers to control traffic is not just about what is happening on the road, they also play a positive role in the protection of roadside workers and structures.
Traffix Water Filled Barrier
As a women-owned business, our top priority is customer satisfaction and safety. This is why we offer high-quality MUTCD-compliant water-filled barriers. If you are serious about safety, the newly introduced Traffix Water-Wall™ Water-Filled Barrier is ideal. When you are ready to order your water-filled barriers, don't hesitate to contact us at Worksafe Traffic Control Industries.
Your order will be shipped to you promptly, primarily within seven days, so you can put these products right to work.
Key Features include: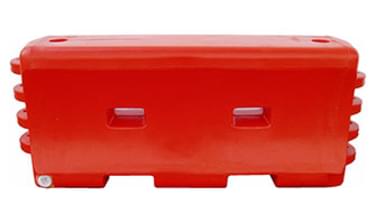 Water wall to be 72′ long *32 TALL * 18 Wide
Molded from linear low-density polyethylene.
The individual wall weighs 80 lbs
Standard colors are orange and white
Water wall sections connected with galvanized steel T-pins
Double-wall knuckle minimizes breakage at hinge points
Pivots up to 30 degrees when connected
Forklift and pallet jack slots are modeled for easy movement
Easy to stack for essay storage
Can go with the water-wall chain link fence for additional colors and available upon request
Does Worksafe Offer Water-filled Barriers Rentals?
Here at Worksafe, we do offer the rental of water-filled barriers. It is recognized that road awareness has a significant role to play in traffic and roadside construction safety. With the large size of the water-filled barriers and their bright orange and white colors. In addition, they offer excellent visibility and effective sight distance. They also enhance the opportunities for making motorists aware of road works, closures, and diversions as early as possible, allowing the motorists to take appropriate action in plenty of time.
Worksafe Traffic Control Industries makes certain that your construction sites are equipped with all of the necessary supplies for contemporary workplace safety. Despite the fact that construction projects come and go, the need to guarantee worker and motorist safety is always essential. On the other hand, the necessity to buy traffic safety equipment may be a hassle, which is why Worksafe Traffic Control Industries is here to assist by providing easy and inexpensive rentals! In addition to water-filled barriers, we hire out a variety of positive protection devices, including (but not limited to) barrier-mounted attenuators and sentry longitudinal energy dissipaters, among other road equipment.
Contact Worksafe Traffic Control Industries Today!
There are many types of equipment and supplies that are utilized to achieve traffic management in work zones. Despite the fact that you may not think about them very frequently, they are constantly present along the roads, presiding over construction sites and assisting in keeping people safe by efficiently regulating traffic flow. Imagine the chaos if there were no signs and barriers on our roadways.
At Worksafe Traffic Control Industries, we offer water-filled barriers that are built with optimum safety in mind. To start your order or to learn more about our water-filled barriers and other work zone safety products, call us at (802) 223-8948 or complete the form below and we will contact you right away.