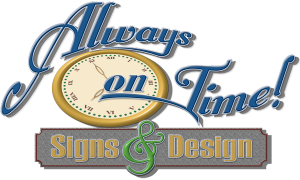 Window and Floor Graphics in Barre, VT
Since 1998, Always On Time Signs & Design has been providing residential and commercial clients with graphics, banners and magnetic signs in Vermont. In addition to traditional signs, we also offer window and floor graphics. These designs are a perfect way to showcase your business or add flair and fun to your interior. Our floor and window graphic services include:
Residential window graphics: Choose Always On Time Signs & Design for any type of residential window graphics. From special announcements to holiday decorations, our window graphics are a perfect way to add flair and style to your home.
Commercial window graphics: Professionals love our window graphics as we are able to design them with their logos or special sales and they can be affixed to any window of their business. You can select any size, style, design and color for your customized commercial window graphic. These are an excellent alternative to traditional commercial signs in Vermont.
Residential floor graphics: Clients love our personalized residential floor graphics. With a variety of styles and colors to choose from, customers can find both small and large ways to add a little pop to their interiors. Not sure quite what you need? That's no problem. Stop in and talk to your trained and experienced graphic designers who will help you design the floor graphic that reflects your unique vision.
Commercial floor graphics: Your business is your canvas and there is no reason not to utilize both your wall and floor space. With custom commercial floor graphics, you'll be able to find new and exciting ways to let your clients know what your business is about.
---
Custom Window and Floor Graphics
As a customer-facing business, your windows and floors are precious real estate, so you have to utilize them as much as possible. Fortunately, Always on Time Signs has you covered with custom window and floor graphics that can make your company stand out.
Which Businesses Benefit From Custom Window and Floor Graphics?
These design elements can help a wide array of brands and companies, such as:
Retailers
Window signs can show off special sales or item discounts. Without these signs, it's harder for your customers to know what to buy when coming into your store. You can also use your window real estate for seasonal images that add some festivity to the shopping experience.As for floor graphics, you can use them to point people in the right direction for a particular product or sale. Arrows or footprints add a fun sense of whimsy to the store, particularly if they're themed around your offerings or a current holiday.
Restaurants
Usually, the best way to get new people to come into your restaurant or cafe is to show them how good your food is. Pictures of your top-selling dishes can entice passers-by to stop in and, at the very least, grab a to-go menu for later. Speaking of menus, large-scale menus can work well as window dressing.
For the floor, you can use customized graphics to tell customers where to order and where to pick up. You may also have designated waiting areas for to-go and delivery orders, which you can mark with floor signs.
Service-Based Businesses
Maybe you're a cleaning company, or perhaps you're in real estate. As a service business, you want to establish trust and confidence with your customers, and window and floor graphics can help. These signs enable you to promote your offerings and tell new visitors what they can expect. For example, you can show off testimonials from past customers, or you can highlight a particular sale going on right now.
Grocery and Convenience Stores
Your business likely always has some kind of sale or deal going on, which you can promote with window signage. However, since your business is unique, you can get creative with your graphics to make your storefront more appealing. As with retailers, you can focus on seasonal or holiday-related signs. Or, you can promote top-selling products and brands.
Why Always on Time Signs?
Custom window and floor graphics can elevate your business and help you succeed. Here are some of the reasons why Always on Time Signs is the right choice for these design elements:
High-Quality Results – Not only do we make graphic design pieces for commercial customers, but we also work with local governments and organizations. So, our commitment to quality is unmatched because we can't afford to make any mistakes. You can feel confident that your order will look its best the first time, every time.
Fast Design and Printing – If you have a new sale or promotion coming up, you can't wait for weeks for a new vinyl sticker or banner. Most of our orders are finished with seven days or less, and we can often deliver rush orders too. Just let us know what you need, and we'll take care of the rest.
Hand-Painted Signs – There's something magical about a hand-painted window sign. It harkens back to a simpler time when life didn't move at such a breakneck pace. If you want to capture some of that magic, we can deliver a hand-painted graphic for your business. We take pride in our quality, and you'll notice the difference.
In-House Design Team – Perhaps you recognize the value of a new window or floor graphic but don't know where to start. Fortunately, our design team can come up with samples and ideas to help you maximize the value of these areas. We've helped many businesses succeed over the years, so we know what it takes to develop eye-catching designs.
Contact Us
When you're looking for outstanding window and floor graphics, removable wall graphics, or additional graphic design services in Barre or Washington County, VT, contact Always On Time Signs & Design at 802-223-1362.