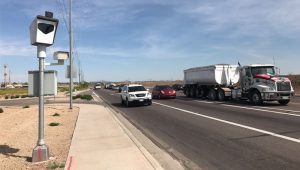 Work Zone Cameras
Work zone cameras ultimately have three primary functions, those functions being project management, incident detection, and aiding in first responder dispatch. The utilization of cameras in a work allows for the creation of a safe environment for not only the roadworkers, but also for the civilians passing through.
Types of Cameras and Sensors
The first thing to understand about cameras is they require a source power and a means of being positioned to get a reasonable view of the area being surveilled. Therefore, cameras intended to be used by road work crews are mounted to a 20-foot pole on a trailer, along with solar panels and rechargeable batteries. The trailer hooks to any standard trailer hitch, so it can be towed to the site, then it can be locked and left there for as long as needed.
Power Supply
The batteries keep the camera on during the night and on rainy days, the solar panels recharge them when the sun comes out. These camera systems also make use of wireless technology to provide a wi-fi hotspot, so the camera can be viewed and controlled remotely from a computer or smartphone.
Further Uses
The main purpose of such cameras is to protect the work crew, and increase the safety of the work site overall. In the misfortunate event an accident does occur, having an active camera can aid in the dispatch of first responders to the scene.
In a more preventative capacity, these cameras can be used to remotely observe the traffic flow throughout the day, and ensure that the work zone is best equipped to handle the level of traffic. Even better, people at the office can review and approve of the site through the camera to assure everything is set up properly to give the workers the room they need to conduct the job while maintaining the best possible traffic flow.
Contact us at Worksafe Traffic Control Industries, Inc.
Whether you need to purchase a camera trailer for extended roadside work your company does or need to rent one for a single use job, at Worksafe Traffic Control Industries, we will have what you need to set up the safety and security of camera monitoring systems. We also sell nearly any other piece of safety equipment your job site might find beneficial. Give us a call or send us an email and we'll be happy to discuss your situation and determine a solution to best suit your needs. Our knowledge and experience can help determine a safe work zone plan, both in terms of practical common sense safety measures and legally required methods of assuring the job is completed on time, safely, and without incidents or accidents.