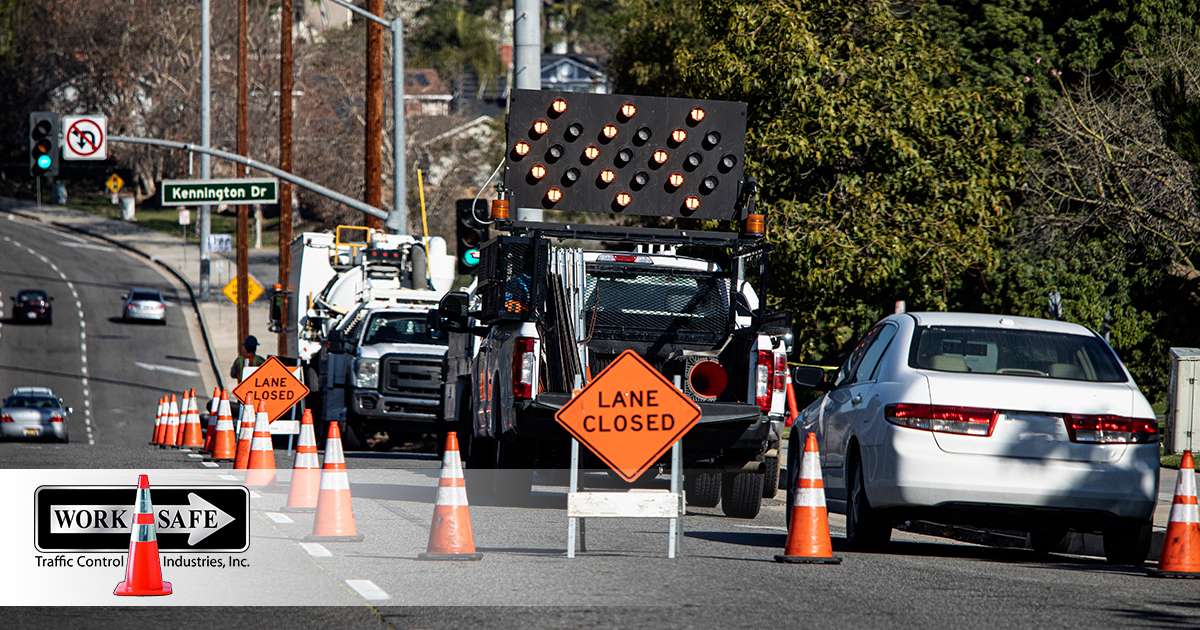 Often, construction work zones must control vehicular traffic in opposition to normal roadway patterns. Different roadway signs and devices are used to warn and channel cars and pedestrians along safe travel paths until they reach the end of the protected work zone.
There are 5 different areas in a work zone that must include either signage, workers, or equipment as traffic control devices. These 5 types of traffic change that must be addressed within a work zone include the flagger's area, a closed shoulder, shifting traffic lanes, merging lanes, and the termination of the work zone.
Designating transitional areas in a work zone
The goal of cordoning off different work zones is to seamlessly move traffic away from and around a work area. A type of tapered area is allocated for drivers, giving them time to adjust to the altered path they are taking. One taper or transitional area is used to lead vehicles off the normal route, and another is established to lead vehicles back on.
These transitional areas in a work zone are temporary traffic control zones and generally have five sections:
advanced warning area

the transition area

the buffer area

the work area

the termination area
Here is a more in depth look at these 5 different areas in a work zone and the signage required to warn drivers about upcoming operations.
5 Different Areas in a Work Zone?
The advanced warning area
Drivers are initially informed of an upcoming road closure, road incident, or lane change with an advanced warning. This warning can be posted on signage or other identifier like a strobe light mounted on a traffic vehicle. On high-speed roads, there may be a series of advanced warning signs to give drivers plenty of notice that a temporary traffic control area is active up ahead.
The transition area
The area where drivers leave the normal driving path to an alternate route is called the transition area. A new channel or lane is set up for drivers to smoothly transition from the normal route to a new route. If the work area moves, then the transition area should also move accordingly. 
A transition area involves a strategically planned taper whose placement is critical to protecting workers from injury. If the taper is too short, drivers may not have enough time or distance to make the adjustment required to move to the temporary lanes and around the work site.
The buffer area
There should always be a buffer area that has no materials, equipment, or storage of any kind. This buffer area is typically placed traveling longitudinally or laterally along the direction of vehicular flow. Sometimes this buffer area is used to separate traffic on opposing roads from the traffic traveling through the work zone.
Consider the buffer area is formed as a type of traffic island that should be clearly defined by channelizing devices.
The work area
The work area is a more loosely defined term, but it involves any area of the highway where maintenance, construction, accident clearance, or utility work is being done. The work zone should also be clearly marked by appropriate signage and channelizing devices should be present as a barricade between workers and the flow of traffic.
The actual work area can encompass the area from the first advanced warning signs to the last END OF ROAD WORK sign appears – or where the last traffic control device is set.
The termination area
The termination area is where vehicular and pedestrian traffic returns to their normal path of travel. This area is always downstream to any work areas, beginning at the last temporary traffic control device. A return to normal speed limit may be indicated by a Speed Limit sign or other signage to inform travelers that normal road operations have resumed.
Visit Worksafe Traffic Control Industries to find road signs that are produced in accordance with the Model Uniform Traffic Code, and are certified as such.