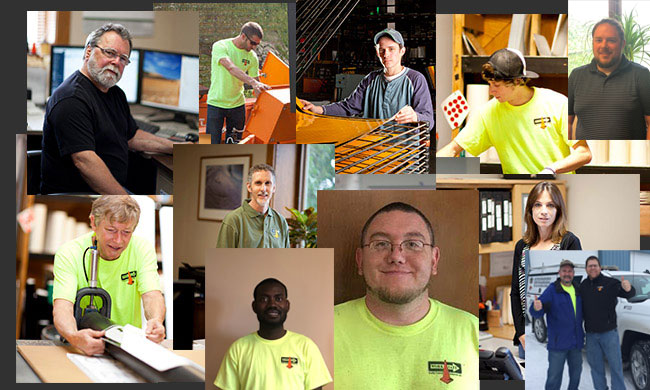 The Story of Us
1993 – Worksafe Traffic Control Industries was founded.
1994 – Added outside sales force in VT & NH.
1995 – Built a 5,000 square foot manufacturing facility and offices. The new facility included silk screening equipment, automated equipment for rolling on sheeting, and a full PC system that runs on Flexi-Sign Pro. The PC was designed for highway use, but can also be used for commercial/custom signs.
1998 – Establishment of Always on Time Signs and Design, our commercial sign shop.
2002 – Launched our website; www.worksafetci.com which has allowed us to expand our market area nationally.
2005 – Opened a full-service sign shop in Bow, NH to better serve our southern New England customers.
2007 – Deployed the first Smart Work Zone in New England.
2008 – Awarded the Medford Superstructure Smart Work Zone- Largest project of its kind. Located just outside Boston we provided smart work zone technology for 14 bridge replacements. Nationally recognized project.
2009 – Worksafe awarded the Best Builder award by VT AGC for our Smart Work Zone Technology Innovation.
2010 – A full line of portable traffic control equipment was added to the rental fleet including the addition of truck mount crash attenuators.
2011 – Worksafe, partnered with VTRANS, was awarded the Innovative Best Practice by the National ITS Association for its automated weather station system.
2012 – Worksafe was awarded their first RWIS (Roadway Weather Information System) contract in NH launching them into a growing new market area.
2012 – Worksafe partnered with the UVM Transporation Center in a study utilizing the I-CONE smart technology system to study the effectiveness of Uniformed Traffic Officers in the Workzone and for data collection before and after the project work zone was activated.
2016 – Scott Deschamps assumes the role of Vice President/owner of Worksafe.
2016 – Worksafe hosted the ATSSA National Work Zone Awareness Memorial in Vermont.
2016 – Debra Ricker, President, is elected chair of American Traffic Safety Services Association.
2018 – Worksafe hosted the ATSSA National Work Zone Awareness Memorial in Vermont.
Association Affiliations
Click below for more information on these organizations
American Traffic Safety Service Association
Associated Contractors of Maine
Associated General Contractors of America
Associated General Contractors of New Hampshire
Associated General Contractors of Vermont
Central Vermont Chamber of Commerce
Central Vermont Economic Development Group
Maine Better Transportation Association
Massachusetts Municipal Highway Association
National Association of Women in Construction
New Hampshire Good Roads Association
United States Sign Council
Vermont League of Cities and Towns
Vermont State Chamber of Commerce