Post-Mounted Message Signs
From controlling the flow of traffic when there has been an accident to marking important turns and parking lots, post-mounted message signs make it easy to display a clear message to cars that pass by. A simple rectangular display makes these signs easy to read even at high speeds, which is important for use on the freeway.
In addition to controlling traffic, post-mounted message signs are a great way to mark things. These signs can be used to mark a parking lot for an event or business. The fact that post-mounted message signs can be quickly edited to display a new message means they are a more cost-effective solution over time. These signs can even be managed remotely via a PC, tablet or phone that is connected to the internet.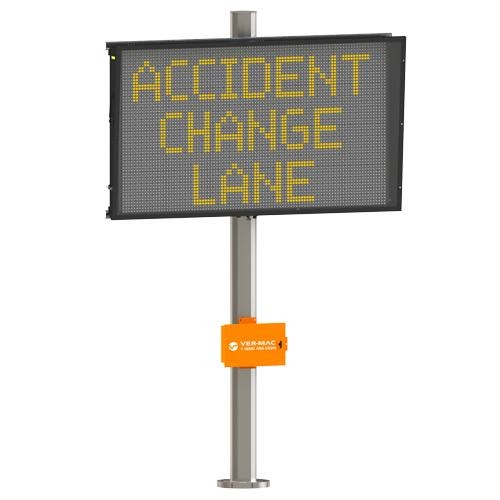 B-1500 Semi-Permanent Variable
Message Sign
Semi-permanent signage solution

Connects to AC power supply

Perfect for freeway or highway use
V-Touch Controller

76" x 135" display panel
Included mounting brackets make the B-1500 Semi-Permanent Variable Message Sign a little different from other post-mounted message signs. This sign offers versatile mounting capabilities, so you can choose how you want to mount it on the side of the road or highway.
Dimensions and Weights
Full Matrix of 28×48 pixels

4 Amber LED, per pixel

Default display is 3 lines and 8 characters (5×7 font, 18 in. character)

5×7 pixels with a 30-degree viewing angle
---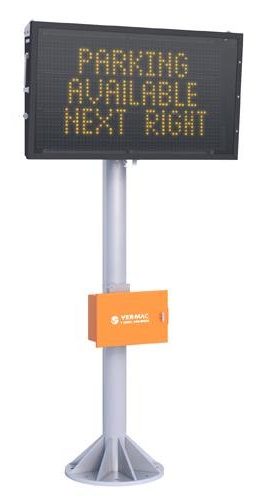 B-548 Post Mounted Message Sign
If you are looking for a permanent message sign solution that stands the test of time, the B-548 Post Mounted Message Sign is a more appropriate choice.
More permanent sign solution
Sturdy design that does not fail or fall
45" x 80" display panel
V-Touch controller
Perfect for cities and urban areas
Dimensions and Weights
Display panel: 45 x 80 in. (1146 x 2027 mm)

Full matrix of 30×56 pixels

2 LED per pixel

3 lines of 9 characters per line (5×7 default font)

Up to 3 lines of 13 characters per line (3×7 font)

9 in. (229 mm) characters (default)
---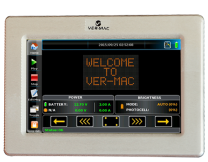 V-Touch Controller
The V-Touch controller is the magic behind these post-mounted message signs, allowing you to work remotely to check the status of signs and update their messages. Not only does the V-Touch controller save you time, but it also allows you to update signs you would not normally be able to access.
V-Touch Controller Features & Benefits
NTICP compliant
Easy-to-read 7-inch touchscreen display
Simple to operate, user-friendly interface
Message library makes sign messaging quick and easy
Message scheduling
Sign diagnostics
Pin password protection
---
Does Worksafe Offer Post-Mounted Message Sign Rentals?
Unfortunately, post-mounted message signs are not able to be rented, as they are manufactured to be permanent fixtures and solutions. If you are trying to determine what type of sign will work best for your work site, please contact us to speak with a member of our staff.
Contact Worksafe Traffic Control Industries
Controlling traffic is not easy, but there are so many times that it's necessary. Thankfully, Worksafe makes traffic control easier by providing post-mounted message sign rentals. Contact us today to find out more or get started with a message sign rental.