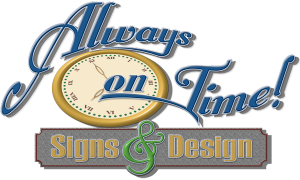 Gallery
At Always on Time Signs, we know that your printing projects are valuable and necessary. That's why we take the time to deliver the best results for all of our clients. Let's break down some of the success stories we've created in the past.
Custom Banners
Nothing promotes your business like a custom banner. However, these pieces are far more versatile than you might expect. Banners work well for a wide array of situations, such as:
Trade Shows – Show off your booth with a captivating sign that promotes both your company and your products.
Building Signage – Banners can notify customers about sales and new products or services. A banner can also work as a temporary building sign until you get a more permanent one.
Vehicle Wraps
There's no reason for your company vehicles not to be wrapped in vinyl. Even if you don't need a full-sized wrap, it's vital to have a sticker or decal with your company's logo on it. This way, you can establish trust with your customers and show them that you're a professional business. As you can see, we specialize in vehicle wraps, which we've done for various clients, including: 
Sheriff's Departments

Satellite Dish Installers and Service Techs

Auto Parts and Service

Wildlife Feed and Fertilizer Services

Harley Davidson Sales Rep

Snack Cake Delivery Vans
Vehicle wraps also serve as mobile billboards for your business. When people see your company car, truck, or van driving around, they might be inspired to call. Without this kind of promotion, you could wind up leaving a bunch of money on the table. 
Window Graphics
If you're a customer-facing business, you likely have large front windows to show off what you sell. Although these windows can help people literally see into your storefront, they can also serve as excellent promotional real estate. At Always on Time Signs, we can make all kinds of custom window graphics and decals for different purposes, such as: 
Seasonal Decoration 

– You can incorporate seasonal elements into promotional ads, or you can just have holiday-themed pictures to add some festivity to your storefront. 

Company Promotion

 – A window sign is more affordable than one you might put on the building, and it offers the same level of visibility and notoriety. 

Product Images

 – Show off your top-selling items, including food dishes or retail products. 

Sales and Discounts

 – Let customers know that they should come inside if they want to save money. 
Stand-Up Banners
A stand-up banner is a versatile piece because it's entirely self-contained. You don't have to worry about tying it to anything or sticking it to a surface. So, these banners can be deployed virtually anywhere. That said, if you want to place one outside, be sure to weigh down the base so that it doesn't blow over in the wind. 
Custom stand-up banners work well for: 
Trade Shows

Product Displays

Customer Service Stands

Kiosks

Temporary Displays (i.e., sales or seasonal activities)
Custom External Signs
Your business storefront is a valuable spot for showing off your business and what you have to offer. At Always on Time Signs, we can create a wide array of external signs to help your company thrive. Some examples include: 
Building Signs

 – Make your mark on your building with a semi-permanent sign. This piece can just have your company logo and slogan, or it can be used for informational purposes. 

Flags and Banners

 – Highlight your grand opening or a special sale with captivating flags that will get people's attention. 

Handcrafted Signs 

– Our in-house design team takes pride in hand-painted signs that offer your business a classic and unique look. 
Wall Stickers and Decals
Don't let your walls be bare. With customized decals, we can add life and vitality to the inside of your business. As you can see, you can get creative with these decals. For example, we made one for a health clinic that helps kids see how tall they are. You can use these decals for decoration or promotional needs as you see fit.