Attenuators and Positive Protection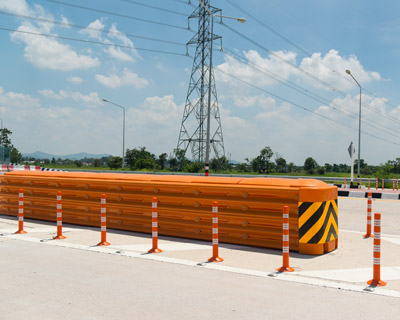 A disturbing fact: according to OSHA (Occupation Safety and Health Administration), there are 13 workplace fatalities daily in the US, and 20% of those fatalities occur in the construction industry. Construction zone traffic-related deaths have decreased over the past decade, but there are still around 600 annually.
To promote safety for workers, drivers, and pedestrians alike, traffic control devices like traffic delineators and attenuators are governed by the MUTCD (Manual on Uniform Traffic Control Devices). Construction workers frequently work on or near an active roadway, and around 10% to 15% of construction-related fatalities each year come from drivers hitting workers. To minimize this risk, the Temporary Traffic Control Devices Rule (TTCR) was created by the MUTCD, which requires the consideration and implementation of positive protection on projects.
This has led to a more modern focus on increasing the usage of positive protection and traffic attenuators to physically separate workers from active traffic, as opposed to relying upon visual barriers like traffic cones and other delineators that do not physically prevent collisions. A great benefit of this approach apart from safety is increased worksite efficiency, as construction workers, recognizing that they are physically protected, can focus on their work without being distracted by traffic and concerns for their own wellbeing.
According to the MUTCD, construction project duration rules out the use of positive protection devices like concrete jersey barriers in instances when setting them up would take longer than the actual road repairs or maintenance will take to complete. As such, portable positive protection devices may still be required in such cases: road lanes can be safely closed for short periods of time with the use of attenuator vehicles, for instance. Common construction activities in which workers benefit from the safety of portable positive protection devices include concrete deck repairs, shoulder work, pothole repairs, and pavement crack sealing. In general, portable positive protection is useful when heavy volumes of traffic are anticipated during otherwise minor roadway repair.
Equipment Rentals
Although construction projects come and go, the need to ensure safety for workers and motorists alike is always of paramount importance. However, the need to purchase traffic safety equipment can be a burden, and so Worksafe Traffic Control Industries is here to help you by offering convenient and affordable rentals!
Worksafe Traffic Control Industries ensures that your construction sites are outfitted with all of the essential materials required to facilitate modern worksite safety. We offer many positive protection equipment rentals, including (but not limited to) barriers, mounted attenuators, and sentry longitudinal energy dissipators.
Attenuators and Positive Protection
The type of positive protection needed for your construction project will vary depending on many factors. Worksafe Traffic Control Industries specializes in knowing the nuanced benefits of each type of positive protection and is a great source of information for identifying which solution is right for your particular project. Common types of positive protection include:
SLED: The sentry longitudinal energy dissipater is a narrow, non-redirective barrier that is designed to shield the end of all permanent and temporary portable barrier shapes. The SLED module is manufactured to deform and rupture upon impact, safely dissipating the energy of a collision. Tensioned by steel cables, as many water-filled modules as are needed are linked together with an empty one at the impact end. The SLED system can be bolted and attached to any structure — even concrete. The complete crash cushion does not require foundation anchor bolts to be attached to the road or bridge deck, meaning that it can be installed and removed quickly.
TrafFix Sand Barrels: Three large, yellow impact attenuator barrels are used with varying weights. Once the barrels are placed in the standard array geometry, simply fill the sand to the molded-in fill line that makes for easy external verification of the weights. The uniquely reinforced lip prevents barrels from deforming when filled, and the modular shape of the barrels allows for easy moving, lifting, and emptying.
Water-Wall Barrier: Molded from linear low-density polyethylene to minimize cracking and breaking, these longitudinal channelizing devices can be linked together and have hinge points that can pivot up to 30 degrees when connected. Weighing 80 lbs when empty and 1,110 lbs when filled, each Water-Wall unit has an 8″ diameter fill hole for quick filling. Available in orange and white, the Water-Wall modules are stackable for easy movement and storage.
Truck-Mounted Attenuator: The hydraulically powered, compact design of this unit allows for convenient folding up and over onto the truck bed during transport and storage. The frame of the truck-mounted attenuator consists of linked strut and cartridge sections on a support frame that is designed to crumple on high-speed impact, allowing for easy replacement when needed. This unit is bright yellow for maximum visibility!
The Sentry Longitudinal Energy Dissipater (SLED)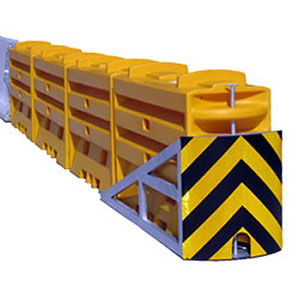 High visibility yellow polyethylene
Non-directive
Installs quickly
Does not require foundation anchor bolts
Deforms and ruptures on impact, absorbing energy
TrafFix Water Filled Barrier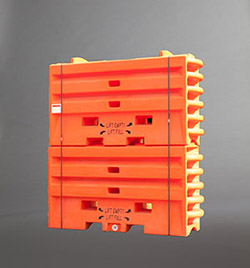 Safer than traditional Jersey Barrier alternatives
Offer driver visibility and guidance in work zones
Great for increased protection of workers and pedestrians
Many potential applications
Rentals available
TrafFix™ Scorpion II Truck Mounted Attenuator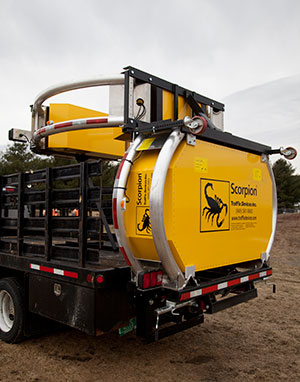 Sales of truck-mounted attenuators
Scorpion modular design creates unbeatable standards of performance
TrafFix™ Scorpion Trailer Attenuator (10002 Series)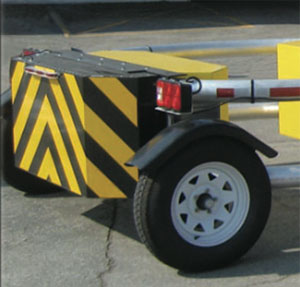 Unique curved modular design
Requires little or no modification to host vehicle
Quick and easy installation
Integrated electric brake system
Questions about the products and services we offer at Worksafe Traffic Control Industries? Call us at (603) 224-0880 or contact us online.