Queue Warning Systems
We may have some of the country's best road facilities, but they are all occasionally prone to wear and tear. Thus, road repair and maintenance procedures are often the best solutions to restore these crucial public resources' functionality.
The only issue is that road repairs require designated work zones, which can sometimes be in the middle of roads. However, such work zones present a hurdle that not many regular road users can anticipate.
Informing them of such activities ahead of time is possible through Queue Warning Systems (QWS).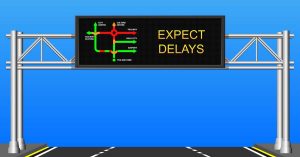 What is a Queue Warning System?
A queue warning system refers to a resource that helps to inform drivers of traffic conditions ahead of time. The central aspect of this road safety resource would be several automated work zone technologies. These include Portable Changeable Message Signs (PCMS), cameras, sensors, and engineers.
The sensor type in the QWS has a vital role in processing information and providing alerts. Among some of the key metrics the system can evaluate include headway, gap, classification, speed, volume, and more.
Once the system software processes this information, it produces advanced warnings upstream in the form of alerts. These components of the QWS work in combination to do the following:
Collect and analyze information – the systems include various technologies that collect specific information on road traffic. The data is crucial in providing information on the PCMS systems.
Provide real-time alerts – once the QWS collects the information, engineers work to process it through special computer software. The result of the information appears in the form of an alert for drivers.
2 Benefits of A Queue Warning System
Implementing a QWS system can benefit traditional work zone safety, such as road signs. Below are some of the primary advantages:
1.Makes Work Zones Safer
We have provided these systems to many different clients over the past. Thus, we have the technical know-how to calibrate these systems to suit specific work zone factors. These can include the time of day, level of road traffic, weather, and more.
Notably, the other side benefit of such a QWS would be that it can free up resources. For instance, engineers and road technicians can have the freedom to focus on various other equally important tasks.
2. Reduces Accidents and Road Congestion
Thus, the QWS system plays a significant role in preventing secondary and primary accidents by providing alerts to drivers ahead of time. Plus, incident severity will also decrease on the roads, as drivers can anticipate the conditions ahead.
Through this approach, drivers can move at uniform speeds, and the traffic at such zones will proceed smoothly.
We Can Help
Our company specializes in providing QWS systems and a host of various other road safety resources. Below are some of the guarantees of your company:
Fast turnarounds – we know those terrible roads are a leading cause of accidents and road traffic complications. Thus, our professionals work fast to deliver the right QWS for work zones.
We optimize our services – road safety protocols and traffic trends are prone to change over time. Thus, we work to ensure our services can consider these changes and provide value for each road repair project.
Satisfaction Guarantees – whether it's a public or private road facility, we have the right QWS systems to make work zones safe.
Regulatory compliant business – you can trust our company because it has Manual on Uniform Traffic Control Devices (MUTCD) -certified and compliant.
Making roads safe is essential, but it's also good to know that road repair activities are inevitable. Thus, using safe work zones that leverage technologies such as queue warning systems can have many benefits. It can make roads safer, reduce traffic complications and help improve the productivity of the engineers.