Cones and Delineators
To block off areas, direct traffic, section off parts of a job site and more, delineators are among the most useful objects for any site. We're pleased to provide a bevy of delineator options that are easily recognized and implemented
Traffic cones are ubiquitous, yet quite unappreciated. Typically seen outside during road construction requiring traffic redirection or providing warning of road hazards. Traffic cones also frequently mark where children are playing outside. The construction and usage of traffic cones and other traffic delineators are governed by the MUTCD (Manual on Uniform Traffic Control Devices). Traffic cones are required to have reflective white bands for increased night-time visibility.
Sometimes they will have reflective plastic collars permanently attached with adhesive to make them usable for nighttime or low-light situations. Flashing lights can also be added for increased visibility.
The modern traffic cone owes its existence to Charles Scanlon. As a street painter for the city of Los Angeles, he was unimpressed by the wooden tripods then in use to mark roads undergoing construction or painting because they were hard to see and easily damaged. Scanlon's rubber traffic cone design returned to an upright position when struck by a glancing blow, and he received a patent in 1943. In 1959, California became the first state to adopt the policy of placing traffic safety cones at the left front and the left rear corners of their service trucks while parked on the street. Modern traffic cones are typically made of thermoplastics or rubber. They can even be created from recycled PVC plastic bottles, see below. Traffic cones and other traffic delineators are designed to be modular so they can be easily placed and removed. While orange is the most common color, it is not the only color used. Yellow, pink, and red are also used for their brightness. Sometimes sturdier and larger sizes are needed and these larger barrels are seen on construction sites, often used as forms of positive protection. Unlike delineators and cones, which are designed to control traffic flows but are designed to move when hit, positive protection is used to protect construction workers. Positive protection works by making the large barrels physically massive, as in literally filling them with water or sand. By doing so, the energy of a collision can be dispersed entirely by the barrels, potentially saving lives. According to the latest statistics from OSHA, there are at least two deaths at a construction job site every day, across the country! Among the most common cause of death at a construction site is a collision with a moving object, including motor vehicles. This highlights the importance of using traffic controls at construction sites as they are inherently dangerous. Failures in proper hazard identification and improper training and instruction of safety equipment are easily overcome. Worksafe Traffic Control Industries understands the safety and the needs of a modern construction site and provides all the necessary safety equipment to accomplish your job.
Equipment Rentals
Construction is by definition temporary and it does not always make sense to purchase traffic safety equipment when you can conveniently rent what you need. Equipment like proper signage and safety equipment on the job site is required for worker safety and the safety of the general public, because (according to OSHA) construction-related deaths are twenty percent of the daily workplace deaths in this country. Without these items on-site applied appropriately, you run the risk of compromising the site and everyone on it. Worksafe Traffic Control Industries ensures that your construction sites are outfitted with all of the essential materials required to facilitate modern worksite safety.
Cones and Delineators
To restrict areas, direct traffic, or section off a job site, traffic delineators are just incredibly useful. Common examples of delineators are:

Cones – designed to be MUTCD compliant, the 28″ enviro-cone is made of 80% recycled material by weight, has excellent color retention and resists cracking down to -40F. Safety cones are more generic than their traffic cone brethren and can be used with clip-on signs, to hold cone lights or flags.

Channelizing drums – drums are the rugged cousin of cones. Designed to be more durable and impact-resistant, these large objects are used on freeways and highways when motor vehicles are moving at high speeds. While not a form of positive protection, they are wrapped in reflective white tape and come with weights for the base to promote visibility and provide ample time for drivers to safely be directed away from construction workers or road hazards.

Flexible delineators – these are the tall, cylindrical cones. Road delineators of this type come with sturdy surface mounts and a flexible base. Flexible delineators are commonly used at driver education centers because they can be safely run over as they collapse and then rebound to shape after being hit. In the road, they are useful when it is essential for the delineators to always stay in place, which is why they are frequently bolted into the road.
Cones
28" Enviro-cone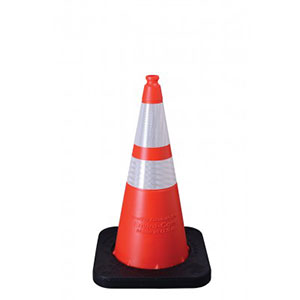 80% recycled by weight and can be recycled again
Manufactured from low-density polyethylene
No cracking or breaking down to -40F
Easy Grip Groove
Reflective collars
MUTCD compliant
Excellent color retention
Safety Cones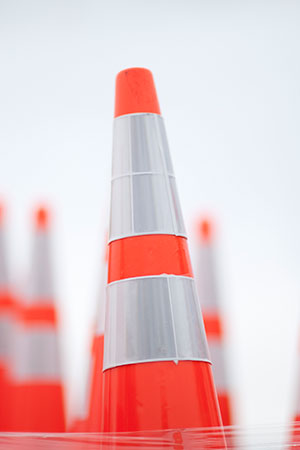 Sports cones
Cone collars
Imprinted cones
Wide body, trimline, and t-top cones
Cone stabilizer
Traffic cone holder
Cone lights
Cone "smart reflector"
Barrier tape clip
Clip on signs
Channelizing Drums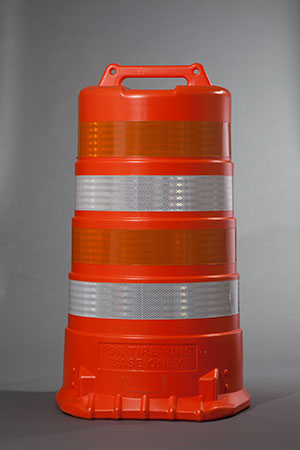 Available in rugged, durable high density or impact-resistant reshapable low-density polyethylene
4- engineer grade stripes
4- high-intensity stripes
Exceeds MUTCD requirements
Barrel wrap EG and HI
Sandbags
Recycled rubber base stabilizer
Delineators
Flexible Delineators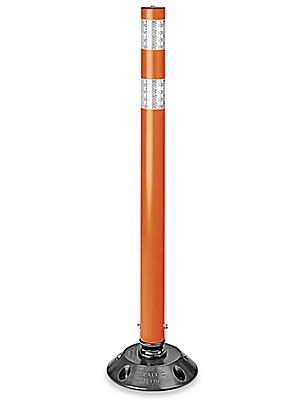 Surface mount and twist lock bases
Epoxy kits
Reflective strips in amber, silver, green, red, blue, green, or custom decals
Anchors, bases, accessories, & components
Installation tools
Flexible signs or post systems
Impact Recovery Delineators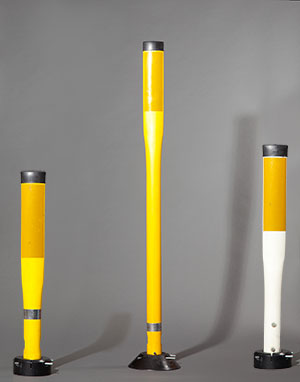 36″, 42″, or 46″ w/base
White or orange post
Flexible high impact delineation
Base options, fixed, epoxy or bolt
White or orange sheeting
Pedestrian Crossing Signs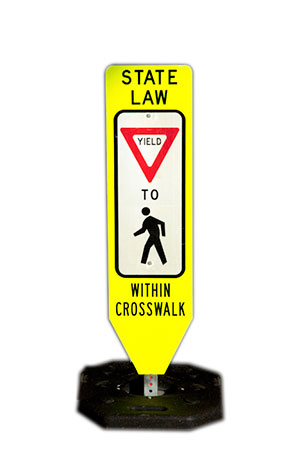 Keep your crosswalks safe
Manufactured to meet your state specifications
2" x 46" Flexible Fiberglass Slot
35 lb. Hard Rubber Base
24" x 15"
NTCIP compliant
Deluxe Post and Tubes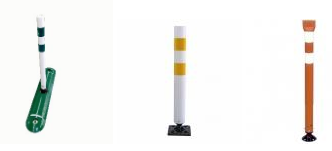 Deluxe post 4″ x 42″ high w/2 reflect
Maxi post 4″ x 42″ / T-Top / 8″ base w/bolts
Delineator Tube 26″, 36″, and 42″ w/base
Questions about the products and services we offer at Worksafe Traffic Control Industries? Call us at (603) 224-0880 or contact us online.