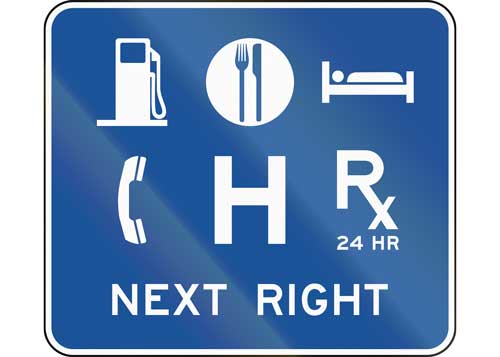 Among the many types of placards you might see along roadways in this country, are the blue-and-white rectangular placards which are designated as general signs. These don't really have much to do with regulating the flow of traffic, but they can be extremely important for informing drivers about services in the nearby area. Whether the motorist is a local citizen, a visiting tourist, or a professional driving long distances for work, general signs can contain a wealth of information that should prove helpful and makes their journey more direct and more pleasant.
General Service Signs
General signs will often be displayed according to the national standard with white letters, arrows, and symbols, all on a background that is all blue. These are very distinctive indicators that are easily recognizable by their color scheme, if not by any kind of uniformity in their shape. For the most part, overall service placards will be rectangular in shape, but this is not always the case, so they are more directly identified by the color scheme.
It is not necessary to mount indicators along the roadside when commercial services such as food, gas, and lodging are clearly visible from the road, and instead should be made available at fairly frequent intervals along the highway prior to their associated exit. They can often work well in urban areas to alert users to the presence of hospitals, tourist information centers, camping grounds, or law enforcement assistance.
What Are They?
Some of the most common types of service placards include a sign displaying the word "info," and is meant to be an informative sign which alerts drivers to the fact that an information center is just up ahead. A sign which displays a fuel pump with the letter "D" is meant to convey to drivers that a diesel refueling station is up ahead, and one which has the letters "EV" displayed indicates that an electric vehicle charging station is coming up.
Other kinds of service placards can indicate that a hospital is in the area, that an ambulance station is nearby, or that emergency medical care is available at a facility in the area. The presence of a police station can be announced on a service sign, as can the nearby presence of a parking lot for trucks.
Phone symbols are another common type of general sign, as are wireless Internet symbols, and both of these inform drivers that these services are available nearby. You might also see a camping symbol sign that is often indicated by a triangle that looks like a teepee, and trailer camping is indicated by a graphic featuring a hauled trailer.
A sign which just shows an ordinary fuel pump is meant to indicate that a gas refueling station is nearby, and when you see a fork and knife side-by-side on a blue background, that will tell you that some kind of restaurant is close by. Another blue background symbol with a figure resting on the bed is meant to indicate that lodging is available in the area and that you should see it soon after spotting this sign.
Importance of General Service Signs
Service indicators are intended to convey to drivers that important services are in the immediate area. Anyone who has been traveling for a long period of time, and is in need of food, lodging, or refueling, will appreciate seeing one of these placards to confirm that those services are in the area.
Without such signs in place, it's entirely possible that motorists might pass the services without ever seeing them at all, and in that case, they will have missed an opportunity to acquire the services which may have been badly wanted. The indicators don't really contribute anything to traffic control, but they can be extremely important to travelers who are in need of various kinds of comfort services, as well as providing a flow of customers to those businesses.
Buy General Service Signs
When you're ready to place an order for any kind of general indicators, Worksafe Traffic Control Industries is prepared to meet your needs. Our signs are MUTCD-Certified and NCHRP 350 compliant, and delivered quickly with a seven-day turnaround on most orders. Contact us today with any questions you might have, or to place your order with one of our friendly and professional representatives.