Airport Traffic Control Devices
Runway Closure Marker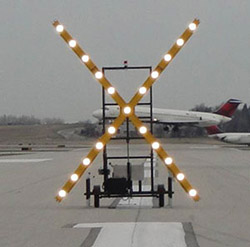 FAA Certified
Complies with NTSB Safety Recommendations A-03-05
Safety Barricades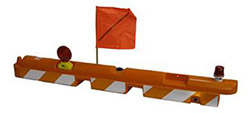 10″ x 96″ RRM Low Profile Airport Barrier
23″ x 46″ RRM Wall Barrier
24″ x 96″ RRM Barrier (Jersey Safety Shape)
31″ x 120″ RRM Barrier (Jersey Safety Shape)
32″ x 72″ RRM Barrier (Jersey Safety Shape)
42″ x 24″ RRM Corner Barrier
42″ x 42″ RRM Wedge Barrier
42″ x 72″ RRM Barrier (Jersey Safety Shape)
42″ x 96″ RRM Barrier (Jersey Safety Shape)
Navigator Channelizer Post/Cone
Portable Lighted Taxiway Barricade System
Airport Safety Flag

Standard FAA size of 36in x 36in
Pi-Lit™ Landing Zone Kit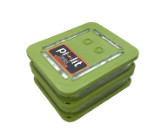 For emergency helicopter medical evacuations.
Safely guides pilots to the demarcated landing zone.
Water-resistant and shock-resistant.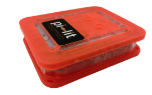 Airport Safety Flag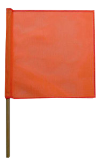 Questions about the products and services we offer at Worksafe Traffic Control Industries? Call us at (603) 224-0880 or contact us online.
Airport Traffic Control Devices
Airport traffic control devices and equipment are used to communicate with air traffic, to navigate aircraft safely around an airport, and manage the general surveillance of aircraft. It helps maintain safety and efficiency with aircraft operations, keeps the flow of air traffic organized, and helps to avoid any type of collision or mishap with aircraft.
There are a great many types of air traffic control devices used for these purposes, including barricades, cones and delineators, striping supplies, vests and flags, roll-up signs and stands, signposts and mounting hardware, and a whole catalog of other devices, all of which contribute to keeping things safe at an airport. Some of these devices are temporary or portable, while others are fixed in place and provide permanent direction or guidance to pilots and airport personnel.
Barricades
Barricades are one of the most-used devices for traffic control around an airport. They come in a variety of sizes and shapes, but all are meant to restrict some areas from being used for whatever reason. Anyone seeing a barricade positioned at a certain area will instantly recognize the fact that the area behind it is off-limits to travel or to mechanized machinery. A few of the different types we carry specific for airports would be the low profile, wall barrier, or jersey safety shape.
Solar warning lights are often mounted on these barricades to make them more visible at night or during other low-light conditions, and these are highly cost-effective because they are capable of generating their own power. They are weatherproof, too, which is especially important, because a sudden loss of functionality could prove dangerous to airport traffic. They're also capable of operating in either flashing mode or steady lighting mode, depending on the usage you have in mind for them.
Roll-Up Signs and Stands
These are generally used to display temporary traffic conditions and situations since they're very portable and are not mounted on heavy-duty bases. Roll-up signs are still very sturdy and can usually tolerate wind conditions up to something approaching hurricane strength before being blown away or damaged. They come in a variety of sizes, including 36″, 48″, and 60″, so they can be stationed in numerous locations and still be easily seen. In many cases, the legs can be telescoped for greater height and stability, so they can be pretty flexible as well.
Probably the most appealing feature of roll-up signs and stands is that they can be quickly and easily put in place and taken down, and when they're not being used, they can easily be disassembled and stored in a small space. These types of signs are often preprinted with the specific message you wish to convey to air traffic personnel: "Be Prepared to Stop", "One Lane Ahead", "Road Work Ahead", and so on. Please be sure to check your project specifications and documents to ensure compliance.
Cones and Delineators
Cones and delineators are typically used to block off specific areas of the airport or to help guide pilots and other personnel away from hazardous areas and back to safer sections of the airport. Because they are universally recognized, cones and delineators are extremely useful in sectioning off certain areas, and they are also extremely easy to set up, take down, and store. Their striking orange or mixed-orange coloring helps with the instant recognition factor and assures that they won't be overlooked by airport personnel.
They come in various sizes, but are usually around 36″ tall and have a solid, stable base that keeps them in place even during windy conditions. Delineators are more like poles or round posts that are mounted on solid bases and have reflective strips of various colors so they can easily be spotted by everyone in the area. They are surface-mounted and often have twist-lock bases so they won't easily separate from their solid foundations, and they make very good warning signs to mark off sections of the airport.
Vests and Flags
All your external airport personnel should be wearing safety vests so they can be instantly seen and recognized. This will help keep them safe and ensure that pilots and other personnel can instantly recognize employees and avoid going too close to them. The vests have reflective tape or other materials on them to make them visible at night, and this is usually a bright green or yellow color that is obvious even in the dark. Vests can be printed with the particular role of your employees — "Traffic Control," for instance — and they are generally waterproof, so they keep the employee dry during inclement weather.
Flags, meanwhile, are often used to alert pilots and others to certain traffic conditions, and when moved in specific patterns, their purpose can be quickly identified. Traffic flags at an airport are often used to direct pilots to certain locations to maintain desirable traffic flow.
Runway Closure Marker
We also carry the runway closure marker which is FAA Certified and complies with NTSB Safety Recommendations A-03-05