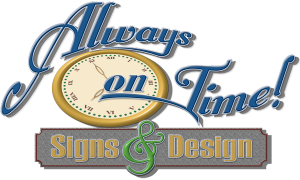 Graphic Design Services in Vermont
When it comes to achieving a professional, clean, polished look in regards to your business' graphical offerings in Barre or Washington County, VT, there is no substitute for professional graphic design services. Nothing invokes feeling, commands respect and paints a picture of quality like professional graphics and being able to stand beside your own quality branded imagery is something that truly separates a business from its competitors.
Always On Time Signs & Design is here to lend our creative talents to your ideas and assist you in transforming your business into something your customers and clients can put their trust in. Our staff is filled with experienced, creative graphic designers and we settle for nothing less than perfection when it comes to the graphical needs of our clients.
Whether you're looking for a graphic designer to craft a unique and original logo for your company or someone to ensure that all of your marketing materials are cohesive and appealing, we're the company to trust. We're committed to your vision and want to help you push the boundaries of aesthetics, so that your business lives up to the expectations of both you and your patrons.
And, our graphic design talents can be translated to any medium you see fit to use them in, including:
Banners
Signs
Vehicle graphics
Vehicle wraps
Phototex graphics
Removable wall graphics
Window / floor graphics
Marketing materials
Our designers are delighted to work with you to determine exactly what you want visually and will always strive to go above and beyond when it comes to delivering a finished product that trumps your expectations. From simple logo designs to more complex signage art, we're prepared to assist you.
Why Does Your Business Need High-Quality Graphic Design Services?
At Always on Time Signs, we understand that businesses of all sizes want to invest their money in items of great value. When searching for new graphic designers, you want to be sure that you make the right choice. Here are some top reasons to use our services:
Build Confidence and Trust
Whether you need a building sign, flyers, marketing materials, or vehicle wraps, an excellent design will show your customers that you're professional and well-respected. Subpar graphic elements can make your brand look amateur or unacceptable. Your prospects need to know what to expect from you when they see your logo or sign. We take great care in producing excellent pieces that will wow your customers every time.
Align Your Company's Values
What does your business stand for? What is your mission statement? Sometimes, it can be hard to pin these ideas down, particularly if they're relatively abstract or lengthy. Fortunately, having an excellent graphic design library for your brand can help you center your core mantra. For example, if you want to show customers that you're financially stable, you can use solid lines and monochromatic colors. If you want to evoke feelings of happiness and joy, you'll use bright colors and eccentric fonts. Tell us what your values are, and we can create a graphics code accordingly.
Establish Your Brand
Branding is essential when building your business. Without a cohesive branding structure, it's hard for customers (and your internal teams) to know what to think and how to react. Plus, the benefit of having a lot of branded materials is that you can reinforce your company ideals subtly over and over. When customers see your logo and brand colors repeatedly, they'll stick in their minds. Then, when they need your services, your logo comes to mind.
Why Always on Time Signs?
We know that many graphic design companies are out there, but we feel that we're the best choice for Northeastern businesses. Here are a few reasons why we should be your go-to design firm:
Fast Turnaround Times
Need something in a hurry? Whether it's a sign or vehicle wrap, we can deliver a finished piece within seven days or less. If you need even faster turnarounds for your projects, let us know, and we'll work with you to get it done as quickly as possible.
Professional Quality
We're used to working for government agencies and organizations. So, designing road signs and other government materials means adhering to strict guidelines and standards. We're also well-versed in working with various managers and teams to get input from multiple sources. So, you can feel confident that your pieces are in good hands.
Multi-Talented Team
At Always on Time Signs, we do more than just business signs. We also do vehicle wraps, banners, window graphics, and more. Also, since we take care of everything in-house, we can ensure product quality every step of the way. No matter your needs, we'll work with you to deliver high-quality results.
Personalized Attention
We value all our clients, which is why we don't take a one-size-fits-all approach. What works for one business won't necessarily cut it for another. Don't worry about getting cookie-cutter designs and graphics from us – we like to think outside the box. Once you contact us, we'll deliver personalized attention so that you feel taken care of every step of the way. Plus, we like to build long-term relationships with our clients. We know that graphic design elements and marketing materials are always necessary, so we're always one phone call or email away.
Professional Insight
Some of our clients come to us with little more than an idea for their business and marketing plans. If that sounds like you, you're in good hands. Our team is highly experienced, and we'll walk you through the entire process of building a brand from scratch. Whether you're a startup or looking to overhaul your business, we'll help you get to the next stage
For more information about our professional graphic design services in Vermont or to speak with a specialist for a logo design, please don't hesitate to contact us at 802-223-1362. We're excited to consult with you to make sure that your graphic needs are being met!