Smart Arrow Boards
A smart arrow board solution provides up-to-date navigation data to drivers and makes you aware of your work zones and your boards' daily operations and health. It integrates both hardware and software that turns an already existing arrow board into a smartboard. Arrow boards are routinely used in advance of active work zones to designate lane closures in the field and display the most current information to approaching motorists.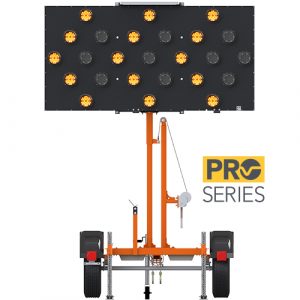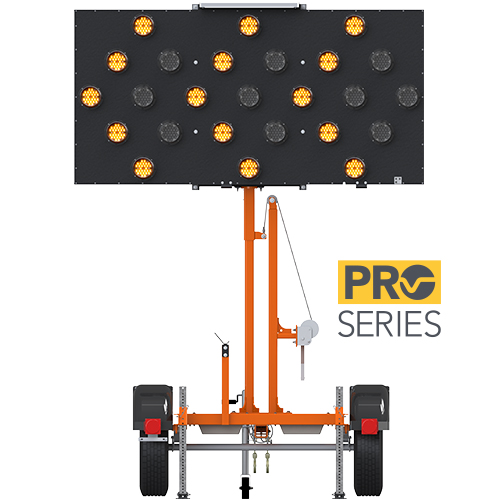 Smart Arrow Boards Technical Features
Our smart arrow board solutions feature the following.
Real-time automation status alerts to inform you in case of a display change or a sign moves.
Real-time monitoring of your arrowboards via an interface that is appealing to any device.
The TIS automated integrations give a driver up-to-date information, assisting them in navigating around quickly and through active work zones.
It gives a historical reporting on the device's operation and location, helping you avoid losing track of a board again.
Suppose a work zone is an "on" status. In that case, the workers use the Smart Arrow Board as they would any other arrowboard. The position of the work zone will automatically update to traveler information systems.
It is good to note that smart arrow boards are congruous and robust and can nicely fit any arrow board regardless of the make or model.
Our Products Uniqueness
The smart arrow board signs our firm produces are standardized per the manual on uniform traffic control devices. For this reason, we are highly sourced in the Northeastern United States, more so in Vermont, New Hampshire, Maine, and Massachusetts.
In addition to this, our product designs have more superior visibility with a wide angularity. The control panel is easy to use and maintain. The control panel does not strain the vehicle batteries. They are available in tilt frames that make it easy to face the traffic and meet downwards when not in use.
How Smart Arrow Boards Works
A smart arrow board uses an intelligent transportation system, ITS, a communication technology application that strives to improve transportation networks' "smartness". It enhances safety, efficiency, and mobility. The arrow boards use popular navigation software such as Google Maps and Wave.
A smart arrow board sends real-time data to the navigation system; in turn, it alerts the motorist of a nearby work zone. Drivers will know whether to re-route to avoid the work zone or shift lanes or, better still, change their speed limits. Arrow boards work to ensure workers' safety and comfort in a work zone and motorists and commuters.
Moving Forward
Our firm seeks to create better and reliable information about your work zone for motorists. Safety is the beginning and definition of our services. Having been providing smart solutions for over ten years in New England, Worksafe is a firm that is dedicated to ensuring safety, providing intelligent solutions and services. Our firm has partnered with various organizations as a business and government contractor.
We are dedicated to quality, and we offer a seven-day turnaround on your arrow board orders. The signs that our firm manufacture and sells, are consumed for roads and highways works. They are mainly sourced by local municipalities, city government, state government, and any state highway department, road management departments, and local contractors working in conjunction with the government.
We offer solutions in traffic safety, public safety, construction, security, and surveillance on the highways.