Conventional Road Guide Signs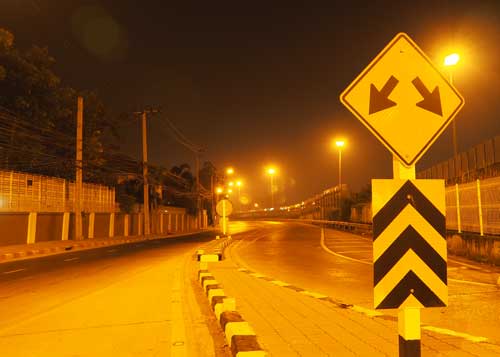 Conventional road guide signs are used primarily to provide direction for motorists using highways and streets, as well as to provide information about intersecting routes. These indicators can also be used to direct motorists to towns, villages, and cities, or to other local destinations they may be seeking such as rivers, national parks, wildlife preserves, and historical sites.
In general, the intent is to provide useful information that will help motorists arrive at their destination in the quickest and most direct possible manner. Directional placards also provide mileage information to specific destinations, and they can be constructed with a variety of different geometric shapes, including rectangles, squares, and diamond-shaped placards.
Route indicators are often used to identify federal interstate roads, state highways, and those roadways which are managed by county agencies or municipal bodies. Motorists generally recognize interstate system indicators by their shield-shaped symbol which has a red band over the top side of the sign, with blue coloring on the bottom. Others are easily recognizable as well, after having been in use for a number of years.
What are Guide Signs?
There are several types of conventional guide signs, and these include street name, recreational or cultural interest, expressway, welcome, informational, route markers, and freeway signs. Some of the specific types of conventional road directional signs are route, auxiliary, advanced turn arrows, lane designations, combination lane usage, and destination overhead signs.
Others can include parking area and park-ride, weigh station signage, street name, signs for conventional road approaches to an interchange, community wayfinding, national scenic byway, and passing lane signs. All of these indicators are used to help direct motorists to specific destinations or to alert them to upcoming conditions on the roadway that drivers need to be aware of. Following the information presented on these indicators can save a great deal of time for drivers, and can help them avoid traffic situations that might otherwise develop.
Importance of Guide Signs

Conventional guide indicators can be extremely important and useful for motorists, especially when the surroundings are unfamiliar to the driver. It would be hard to overestimate the importance and usefulness of directional indicators because they are so effective at maintaining safe driving conditions, and that should be the number one priority for all drivers on the roadways of this country.
Guide placards can tell you how fast you're allowed to be driving, they can tell you which direction to go in order to find a sought-after destination, whether there are any road hazards up ahead, and whether or not you're approaching a merging road. Without these directional placards in place, general chaos could result on our highways, and there would be considerably more traffic accidents than there currently are.
Buy Guide Signs
Any of the directional indicators which are used throughout the Northeast can be purchased from Worksafe Traffic Control Industries, Inc. All of our signs are MUTCD- certified, and NCHRP 350 compliant. Whatever kinds of guide placard you might need, or any related supplies or accessories, Worksafe is prepared to supply you with quality signage. Contact us today with any questions you might have about our products or services, or to place your order for some of our high-quality guide placards. We are dedicated to providing you the best quality indicators quickly, with a seven-day turnaround on most orders placed with us.