Post-Mounted Speed Signs
Speed limit signs don't often change typically, but there are some circumstances where flexible speed limits are crucial. Everything from traffic to weather and road conditions can make it dangerous to drive at high speeds, so sometimes it's important to have speed signs that can be changed according to driving conditions. Post-mounted digital speed signs are a great way to set a speed limit that you can change based on the conditions that day, which is an essential part of making sure you're prioritizing safety when working on the highway.
If you're working in an area where the weather changes frequently, it's especially important to have access to non-fixed speed signs. Allowing drivers to drive too fast when it's raining, snowing, or hailing can lead to dangerous situations, and those dangerous situations can also put the lives of road workers at risk. In addition to traffic signals and easy-to-read signs, road construction sites should have speed signs that change based on current conditions. The good news is, Worksafe Traffic Control Industries can help you find the best post-mounted speed signs to make your road construction project safe.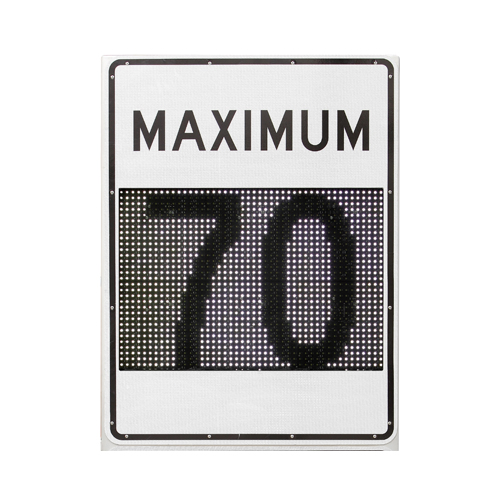 PLVV-1LM48X32B Speed Sign
Investing in the Ver-Mac PLVV-1LM48X32B is the best way to control the speed of traffic during road construction. This post-mounted speed sign features a digital display that shows the current speed limit. You can change the number on this digital display at any time, thanks to the V-Touch controller and JamLogic software that are included with the Ver-Mac PLVV-1LM48X32B. By setting speed limits based on the conditions of the road, you can prevent stop-and-go traffic and keep drivers and construction workers safe on the road.
48×32 pixel display of the Ver-Mac PLVV-1LM48X32B is designed to provide an easy-to-read speed warning. The 7″ screen is designed to provide bright, clear picture quality, allowing drivers to make out the number on the sign from a good distance. This is crucial since it helps keep traffic flowing at a steady pace, which keeps everybody on the road safe.
---
Display
The Ver-Mac PLVV-1LM48X32B features a 7″ full-matrix display that displays images at a resolution of 48×32 pixels. You have the choice between amber or white pixels, so you can choose the color that makes your speed limits easier to read. 15-degree visibility means drivers don't have to be straight on with the sign to read it, while a choice of different fonts allows you to completely customize this speed sign. Ethernet and RS-485 ports mean you can connect the Ver-Mac PLVV-1LM48X32B to the internet, allowing you to manage it remotely even when you're not on the job site. Manual and photocell-controlled brightness is the cherry on top when it comes to the bright display of this sign.
Construction
Durability is critical when it comes to road construction traffic signals and speed signs. The Ver-Mac PLVV-1LM48X32B features an IP 45 weatherproof design that's made to withstand rain and other harsh conditions. The sealed power supply means this speed sign even works in marine environments. Despite the durable design of the Ver-Mac PLVV-1LM48X32B, there's still an easy-access panel that makes maintenance a breeze.
Does Worksafe Offer Post-Mounted Speed Sign Rentals?
At Worksafe Traffic Control Industries, it's our goal to provide you with all the equipment and services you need to create a safe road construction environment. Unfortunately, we don't offer post-mounted speed sign rentals. Check out our website or give us a call to find out more about the traffic control rentals we do offer.
Contact Worksafe Traffic Control Industries
Keeping drivers and road construction workers safe should always be a top priority, and Worksafe Traffic Control Industries is here to help. We offer a wide range of traffic control products that make it easier to keep people safe during road construction, whether you're on a highway or a city street. To find out more about the products we offer, contact us today at (802) 223-8948 or fill out the form below.