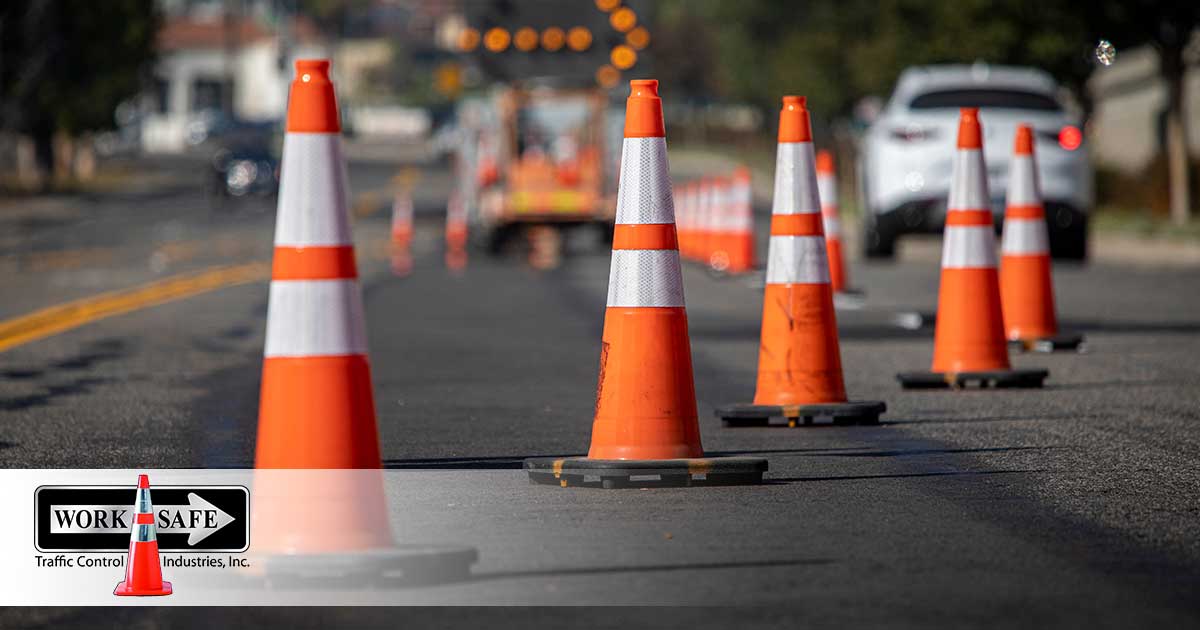 Worker safety lies in setting up work zones that reduce inherent hazards as much as possible to protect drivers and workers. Smart work zones offer signage and information to mitigate the danger of collisions caused by inattentive drivers. Work zone safety has strict requirements. Per the Model Uniform Traffic Code (MUTC) in Section 6D.03 temporary traffic control (TTC) areas keep those in work zones safer. Setting up these zones have rules that include installing physical traffic barriers and posting speed reductions. Smart signage allows the easier creation and maintenance of these TTC zones.
What Defines Smart Work Zones?
All work zones must follow the requirements for barriers and speed reduction set forth by the MUTC. Smart work zones leverage technology to meet the basic requirements while enhancing worker safety and traffic flow. The most common characteristics of smart work zones are reliable information, portable equipment, automated data collection and operation, and real-time data gathering and analysis.
Smart equipment requires elements that collect, analyze, and use data to help improve traffic flow, reduce driver frustrations, and keep workers in the area safe.
Dynamic Lane Merge Systems
Dynamic lane merge systems use real-time information to alert drivers of a pending merge in the roadway. These systems use the information gathered from a traffic control device to calculate how many lanes vehicles must merge based on existing traffic. With dynamic lane merge systems, traffic flows more smoothly as drivers have to merge before a work zone.
With advance warning of a lane merge, drivers will be more aware of upcoming changes in the traffic patterns ahead, reducing the chances of collisions or gridlock.
Queue Warning System
A queue warning system takes data from sensors and cameras. Engineers turn the data into usable information by processing it through analytical software. Portable changeable message signs display information from processing the data. Drivers see these signs, which alert them of traffic slowdowns, work zones, or lane changes.
When drivers have information about changes in road conditions, they will have the time to mentally prepare themselves to become more alert. Therefore, queue warning systems can reduce the number of collisions caused by inattentive drivers near work zones.
Variable Speed Limit Trailers  
Variable speed limit trailers or permanently mounted systems, have sensors integrated to adjust the speed around a work zone to allow drivers to maintain a safe, slower speed while minimizing braking. Signage that alerts drivers of changes in speed limits will reduce sudden braking upon entering a new speed limit zone, which can reduce accidents.
Intelligent Transportation Systems
Intelligent transportation systems include both advanced traveler information systems and advanced traffic management systems. Both systems have value in use around work zones.
The advanced traveler information system includes signs that display data about upcoming construction, road closures, or travel delays. Drivers who know in advance about these types of traffic issues will have ample time to change their routes or prepare themselves for the conditions ahead.
Advanced traffic management systems combine data collected from various sensors and cameras to adjust traffic signals and changeable message signs. Changing these signs allows for traffic control based on real-time conditions. Traffic flows more smoothly around work zones, increasing worker safety and reducing accidents.
Conflict Warning Systems
Conflict warning systems, such as those used at intersections or around work zones, alert those nearby of potential hazards. Types of systems include sensors and alert signals that warn of workplace intrusion, excessive speed, vehicles that exceed set dimensions, or traffic approaching an intersection. When used in intersections, conflict warning systems can reduce accidents by up to 30%.
In smart work zones, these systems help to enhance the protection of workers adjacent to active traffic lanes. By alerting vehicles of workers in the area, they can reduce accidents caused by inattention. Drivers who know about lower speeds and workers nearby through signage placed before they reach the work zone will drive more cautiously through the area.
Create Smart Work Zones to Protect Workers and Better Manage Traffic
Setting up smart work zones requires having MUTC-compliant equipment to manage traffic in the area. Trust WorkSafe Traffic Control Industries for the high-quality, MUTC-compliant signage and smart work zone equipment required. Work Safe is a woman-owned business and government contractor that provides a rapid seven-day turnaround on all orders. Connect with WorkSafe TCI to learn more about requesting a bid for smart work zone equipment.