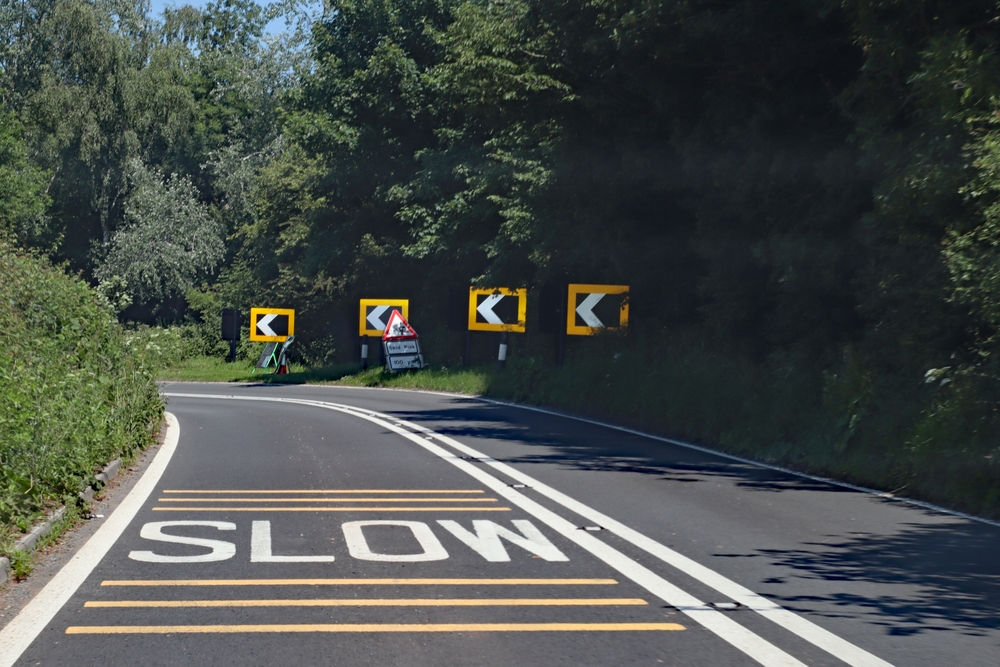 Road hazards can come up all the time for different reasons. Sometimes, a weather event may disrupt the flow of traffic by blowing trees or other obstructions onto the road. In other cases, landslides or sinkholes can appear and create hazardous conditions. 
When these incidents happen, cities and municipalities must use hazard marker signs. These signs are designed to notify drivers of the hazards ahead so they can plan accordingly. Here is everything you need to know about these signs and their use. 
What is a Hazard Marker Sign?
A hazard marker sign is a vertical sign that uses a black-and-yellow color combination. The sign aims to warn drivers of a hazard or obstruction ahead and show them which direction to drive around it. 
For example, a left-angled sign will notify drivers to move to the left. The side may have angled stripes or use arrows to indicate the correct direction. Typically, arrows are used to mark turns, such as when a driver is getting off the freeway. 
Sometimes, the hazard may be in the center of the road, meaning drivers can go around it in either direction. For this instance, the sign will use an upward arrow to indicate that either side is viable for avoiding the hazard. 
These signs must use reflective materials and colors so they're always highly visible. This way, drivers can see them at night, especially because the sign lights up when illuminated by headlights. 
When are Hazard Marker Signs Used?
Hazard marker signs are typically used when there is a hazard in the road, such as a median, a fallen tree, or some other obstruction. These signs can be semi-permanent, permanent, or temporary depending on the situation. 
Temporary hazard markers will be used until the hazard has been removed. However, the road may be closed in dangerous situations until the obstruction is removed. For example, if a sinkhole develops, the city doesn't want other cars to drive on the road as that could cause the hole to grow and become more dangerous. 
These markers can also be used for barriers and other obstructions on bridges and roads. Since these barriers are not always visible at night or in low-light conditions, the hazard marker makes it easier for drivers to stay in the correct lane. 
Why Use Hazard Marker Signs Instead of Other Road Signs?
Depending on the situation, hazard marker signs are often used in conjunction with other road signs. However, the primary benefit of using this kind of sign is that it's easy to see and conveys the right information immediately. By showing drivers which way to turn to avoid the hazard, cities can help prevent collisions or accidents. 
Occasionally, hazard marker signs are placed permanently on sharp turns to notify drivers that the turn isn't over yet. Again, their visibility and highly reflective surfaces help ensure drivers don't accidentally go straight and cause a collision. 
Benefits of Hazard Marker Signs
While other signs can help drivers avoid obstacles, hazard marker signs have some distinct advantages, such as: 
Easy to See

– Compared to other signs, hazard markers are some of the easiest to see, especially when lit up by headlights. Drivers are much more likely to pay attention and avoid the hazard when they see this sign. 

Versatile

– The relatively compact design of a hazard marker means it can be deployed virtually anywhere. Both square and vertical models are available for your convenience. Plus, they're easy to mount. 

Long-Lasting

– All road signs must withstand outdoor wear and tear rigors, but hazard marker signs are built to last as long as possible. When a city or municipality upgrades to higher-quality materials, they can feel confident that they won't have to replace the sign for 20 years or more. Overall, it's an excellent investment. 
Are Hazard Marker Signs Permanent?
Sometimes, hazard marker signs are permanent. For example, if there is a median or roundabout, the sign will stay in place to warn drivers that they have to avoid the obstacle. 
In other cases, the sign may only be in place for as long as the hazard exists. Also, if the hazard is seasonal (i.e., a snow drift or flooded area of the road), the sign may only be in place for that period. 
Get Hazard Marker Signs from WorkSafe Traffic Control Industries
We believe in road safety above all else at WorkSafe Traffic Control Industries. That's why we design our road signs to the strictest standards set by the Manual on Uniform Traffic Control Devices (MUTCD). You can be sure that any sign we make for you will meet or exceed MUTCD recommendations and regulations. 
We also pride ourselves on delivering fast results. We can usually print and ship our road signs to your city or municipality within seven days. Rush orders are not a problem for us, and we are happy to work with you to get the best results possible. 
We understand that hazard marker signs are crucial for driver safety. The goal is to prevent collisions and keep the roads safe for everyone who shares them. So, we have you covered whether you need temporary signs for unforeseen hazards or permanent options. 
WorkSafe Traffic Control Industries also offers a wide variety of reflective materials for better visibility. You can choose the material and finish that works best for your needs. Protective coating layers can help keep the sign in pristine condition for years or decades. 
Browse our selection of road signs and contact us when you're ready to place an order.