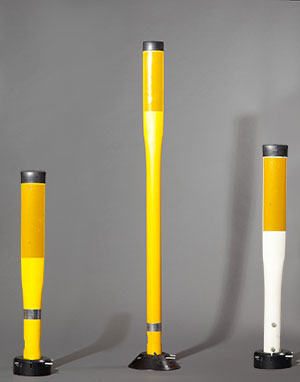 Drivers can become overwhelmed with the number of choices and decisions when navigating through the roadway environment. The likelihood of crashes increases for all drivers—especially inexperienced and older drivers— as that number of choices increases. There are several low-cost, easy-to-install safety improvements that can help ease the driving task by eliminating some choices at specific locations or by spreading the decisions into multiple locations within a short period of time.
Flexible channelizing devices aid drivers by providing positive guidance, restricting movements, or discouraging illegal or unsafe maneuvers. While delineators indicate roadway alignment, channelization devices supplement pavement markings and delineation.
Proven Results
Flexible channelizing devices were initially installed at highway-railroad crossings to discourage motorists from driving around lowered gate arms. State departments installed flexible channelizing posts at a railroad crossing, Washougal, Washington. State Departments of Transportation, such as in North Carolina, Florida, Arkansas, and Michigan, have implemented and documented their experiences with these devices at highway-railroad crossings and have found that violations (drivers driving in the opposite lane to maneuver around lowered gate arms) decreased approximately 80 percent.
Flexible Uses
Flexible channelizing devices can also be installed to close median openings, thus managing access. This application further enhances roadway safety by eliminating more complicated left turns that require drivers to determine appropriate turning gaps in oncoming traffic. When installed to minimize median crossings at traffic islands, channeling devices enhance safety by discouraging drivers from attempting illegal turns.
State DOTs See Cost Savings
For example, the Florida Department of Transportation installed flexible channelizing devices at 16 full median openings between March and September 2007. This resulted in eight fewer crashes per year per location, with an associated net construction cost savings of approximately $125,000 per location.
Lane Separators
Another use of a flexible channelizing device to promote drivers to stay in their lane is along the pavement markings that designate high-occupancy vehicle lanes. This vertical barrier encourages driver compliance more effectively than pavement markings alone. The device spacing can be increased or decreased, depending upon the violation rate. An added benefit is that the flexibility of the devices enables easier access for emergency vehicles into the lane.
An additional application for these devices is along right-turn lanes and in merge areas. The vertical markers cue drivers to stay in the lane for the distance required to decelerate or accelerate to the appropriate speed. This reduces the number of decisions that drivers need to make, helping them to focus on turning after decelerating or merging into traffic after accelerating. When used in this manner, the devices are also known as lane separators.
Contact Worksafe Traffic Control Industries to include flexible channelizing devices in your work zone.
Contact us