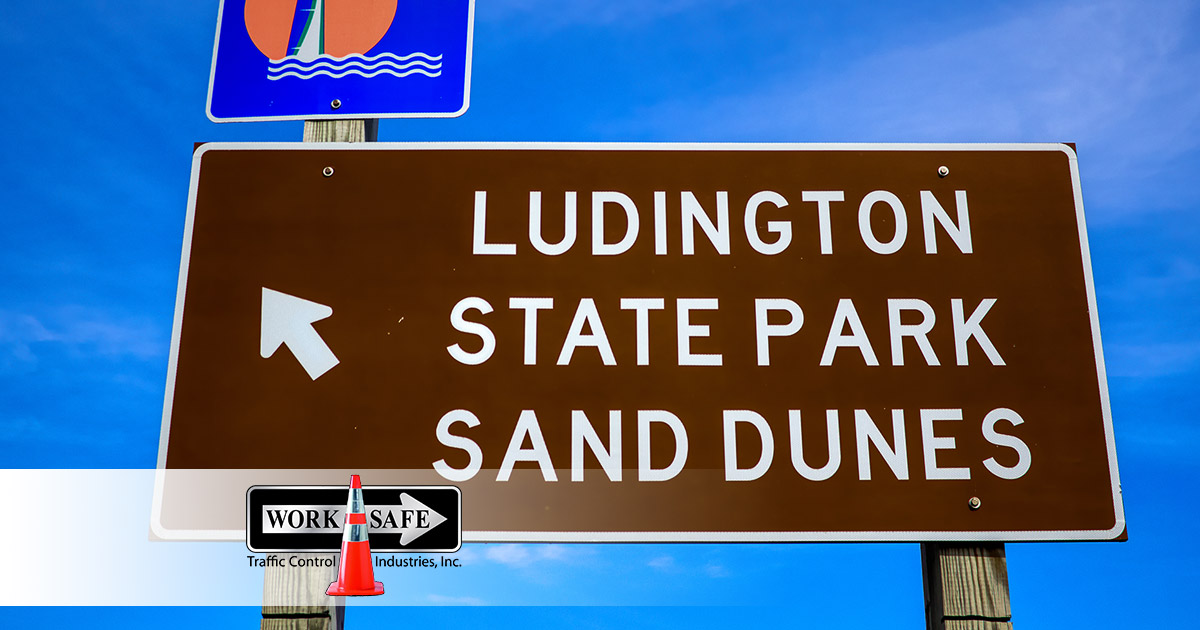 Brown road signs are not nearly as common as some of the other traffic control signs you might encounter during normal highway driving. In fact, if you haven't done any interstate driving, and you don't go on many vacations, it's entirely possible that you may never have seen a brown sign. Brown signs are most commonly used to convey tourist information, and the white lettering, which is displayed on the brown background, is internationally recognized as a sign providing information for tourists. A symbol will be included on the indicator as well, and this is meant to represent the type of destination present in the area.
There are two main categories of brown road signs, those that identify tourist facilities and those meant to alert drivers to the presence of tourist attractions such as zoos, museums, country tours, and specific tourist routes.
The first category will include indicators which notify drivers about the presence of hotels, guesthouses, camping parks, and picnic sites, which are somewhere in close proximity. These kinds of brown signs can appear alongside any roadway, either on expressways, interstate highways, or local and county routes.
The second category of brown indicators are considered to be more related to tourist attractions, and they will convey to motorists that attractions such as museums, visitor centers, theme parks, historic ruins or buildings, and zoos are nearby. Both these kinds of indicators can be beneficial for vacationers because even when you're aware that you're in the general area of the destination you're trying to reach, it can sometimes be difficult to pinpoint the exact location.
If you don't have a GPS system in your car, the presence of these brown indicators can help guide you directly to whatever attraction or tourist facility you're trying to reach. Even if you do have GPS and you know you're on track, the presence of the brown indicators can serve as a confirmation that you're in the right area, and that your destination is close by.
What Are the Most Common Types of Brown Road Signs?
If you have ever packed up the family and gone on an extended road trip across the country, you will undoubtedly have come across a number of different brown indicators which alert you to the presence of either tourist facilities or tourist attractions in the area.
One of the most common of these indicators is the brown background sign with a male and female standing side-by-side in what looks like a portable restroom. This is indeed the indicator for bathrooms that are somewhere up ahead, so if you have any children who have been clamoring for a relief stop, you'll know that relief is just ahead.
Another common brown road sign is the one which depicts a glass of water against the brown background, and this means that drinking water is available nearby. The indicator which shows a picnic table is obviously meant to convey that there is a picnic area up ahead, so you can pull over and enjoy a break with sandwiches and beverages.
If you're looking for a place to empty your trash out, then you should be on the lookout for the brown sign, which shows a person discarding trash into a waste receptacle.
The indicator which depicts a washing machine in the middle of it is meant to alert you to the fact that laundry facilities are nearby. There is a whole slew of brown indicators which depict recreational activities, and some of these may be just the ones you're looking for.
The person who is swimming in the midst of a brown background is telling you that there's a swimming area nearby. Two people with hiking sticks on a sign are meant to show that there's a hiking trail in the area, and the indicator showing a person fishing off the pier means just that – there is fishing available off the pier up ahead.
Another brown sign will show an all-terrain vehicle to indicate that a trail is nearby for ATV usage, while a boat on a trailer is an indicator that is meant to show you can launch your boat in an area up ahead. A car sitting on a white platform intends to show that there is ferry service up ahead to cross some body of water.
A big snowflake in the middle of a brown background indicates that there is a winter recreation area nearby, and a skier set against the brown background shows that there is cross-country skiing available somewhere in the area. The picture of a snowmobile on a brown background shows that there is a snowmobile trail nearby which you can make use of.
When you see an indicator that has a recreational vehicle depicted on a brown background, that means there are motor home facilities in the area, and that you can stop for the night at them. A brown sign with a wrench depicted in the center of it will tell you that an auto repair shop is close by, in case you have need of such services.
While these are not the only brown road signs that you might encounter while driving, these are among the most common ones that you are likely to see. They can be very helpful in letting you know that there are nearby services or facilities are available, and that you should be on the lookout for them up ahead.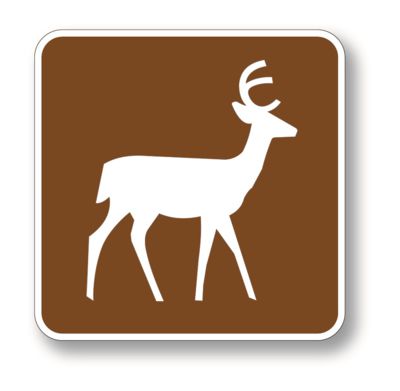 Order Online
Other Common Colors for Road Signs
Now that you're an expert on brown road signs, you may be interested to know what the colors indicate on some of the other common road signs you encounter when driving. Here are the most commonly used colors on traffic control road signs:
Blue – a blue-colored sign generally indicates tourist information, evacuation routes, and user services
Red – red-colored signs usually mean to stop, and then to proceed when it's safe to do so
Fluorescent yellow or green – these are used to indicate school zones or pedestrian crossings
Coral – signs which are coral-colored are used as incident management signage
Green – green signs indicate which traffic movements are allowable in certain areas, and they often provide directional guidance
Yellow – yellow signs indicate that caution should be used in the area up ahead
White – signs which have a white background are used for regulatory purposes such as enforcing speed limits
Orange – orange signs are used as warnings, and for guidance, as you navigate through work zones and construction sites.
Final Thoughts
When you encounter brown indicators while driving, you should instantly be aware that they are informational in nature only, and that they're not trying to direct your driving in any way. They are merely intended to provide you with travel information, so that you can more easily find tourist facilities and attractions, instead of having to stop and ask directions somewhere nearby.
For signs intended to regulate traffic somehow, or alert drivers to some condition that requires extra attention on the road, you can find all these kinds of indicators at the nation's premier provider of traffic control signs, Worksafe Traffic Control Industries, Inc.
If you're someone who is involved with local or community government, contact Worksafe at your convenience to discuss how easy it is for you to obtain high-quality signage and all the important accessories needed for effective traffic control.