Road Closed Signs for Sale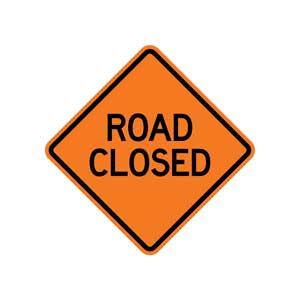 Road closed signs are vital for businesses and organizations that need to close roads for construction, events, or other purposes. Government agencies and businesses often need to close roads for different reasons, and road closed signs are the best way to ensure that drivers are aware of the closure and can adjust their route.
At Worksafe Traffic Control, we can produce road-closed signs for any customer in need.
Types of Road Closed Signs
There are many variations of road closed signs, depending on the customer's needs. Some common types of road closed signs include:
Detour Signs
Road Closed Ahead Signs
Local Traffic Only Signs
Authorized Vehicles Only Signs
Expressway Ends Signs
Toll Plaza Signs
During a road closure, it is vital to have the proper signage in place so that drivers are aware of the situation and can plan their route accordingly.
Why Choose Worksafe Traffic Control?
Worksafe Traffic Control is a leading provider of traffic control products and services. We have been in business for over 20 years and are a competitive contractor. We provide our customers with the best MUTCD-compliant products and services, and we are confident that we can provide you with the road closed signs you need.
At Worksafe Traffic Control Industries, we produce high-quality road-closed signs that meet all specifications set by the Manual on Uniform Traffic Control Devices (MUTCD).
Order now and receive your order within seven days.
Where to Place Road Closed Signs
Road closed signs need to be placed in strategic locations to be effective. They should be placed in advance of the closure, and at all entrances to the closed road.
It is also important to place road closed signs at key intersections and exits along the detour route. Never place a sign in the middle of a detour, as this will only confuse drivers.
What Does a Road Closed Sign Indicate?
A road closed sign indicates that a road is closed to all through traffic. Drivers should not attempt to drive on a road that has a road-closed sign.
There are penalties for driving on a road with a road-closed sign. In some states, it is considered a misdemeanor offense to ignore a road closed sign. The penalties for this offense can include a fine and/or imprisonment.
Why are Road Closed Signs Important?
Road closed signs are important because they help ensure the safety of drivers and pedestrians. They also help to reduce traffic congestion and improve traffic flow.
They help to ensure the safety of drivers and pedestrians by way of:
Warning drivers of a road closure in advance so they can plan their route accordingly. If someone needs a new way to get to work, they need as much warning as possible.
Helping to reduce traffic congestion by directing traffic away from a closed road
Improving traffic flow by directing drivers to the most efficient route
These signs also help protect property and equipment by preventing drivers from driving on a road that is closed for construction or other purposes. Accidents can happen and construction progress can be at risk with moving cars.
Business and government organizations that need to close roads need to make sure they have the correct road closed signs. An incorrect sign can cause confusion and may result in penalties.
Luckily, road closed signs for sale at Worksafe Traffic Control Industries offer many choices so organizations can find the perfect sign for their needs.
The WorkSafe TCI Difference
When you choose Worksafe Traffic Control Industries for your road closed sign needs, you can be confident that you are getting a high-quality product. We use only the highest quality materials, and our signs are produced in accordance with all MUTCD specifications.
In addition, we offer a variety of sign options to meet the needs of our customers. We can also produce custom signs to meet specific requirements.
To learn more about our road closed signs, or place an order, please contact us today.