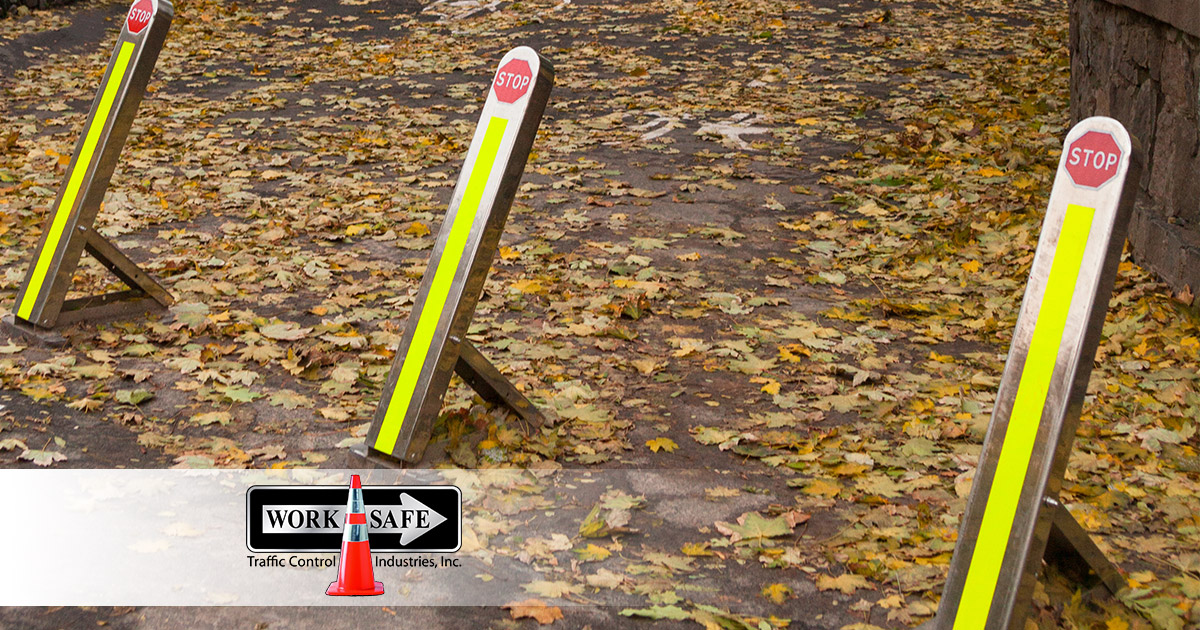 Traffic delineators came into being as a result of a need for temporarily directing roadway transit away from a specific location for some reason, usually because construction is underway in that area. Over the years, the design of these delineators has been refined to make them more versatile, more portable, and more useful in a great number of traffic situations.
Now they are used in every state in this country, in a great many different ways, but always to catch the attention of motorists, and to direct them away from hazardous situations, or areas under construction. They are relatively inexpensive, and have proven to be highly effective at alerting drivers to road conditions which need to be avoided.
What is a Traffic Delineator?
Traffic delineators are devices which are installed temporarily to direct vehicles away from hazards which may exist in the roadway. They're sometimes referred to as hazard markers, but one of the primary characteristics is their high visibility, which is essential for catching the attention of motorists. They are generally equipped with reflective strips which tend to make them visible even in poor lighting conditions.
Generally speaking, the direction of the stripes on a divider will indicate to drivers which side they should expect hazards to be on, as well as which side to pass on. Sometimes transit dividers are used to show where lanes are about to merge, or are about to separate. Since roadwork often poses a number of hazards to drivers, it's very important to place dividers at appropriate locations to identify those hazards and to redirect vehicles onto desired paths.
It's also essential that these be portable and mobile, because the nature of roadwork and the indicator used is always temporary. They should also be very easy to put in place, because if any significant amount of time is used in placing them or retrieving them, that will increase the likelihood of accidents occurring.
Traffic delineators are also generally very lightweight in design, so that no serious accidents will occur and no damage will be done, should a motorist accidentally drive into one. Since it is necessary for them to be lightweight, they must be well anchored to some kind of base, so as to avoid having them blown over by strong wind gusts. Most are also constructed to be flexible, and therefore usable in all kinds of weather conditions.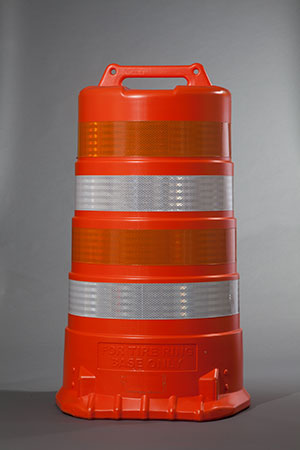 What are the Different Types?
While there are literally hundreds if not thousands of different types of transit divider used throughout the US, there are some which are more common than others, and which are almost standard in their usage. Below are described some of the most commonly used versions, and these have achieved their specific levels of popularity because they have proven to provide value and utility in a great many transit situations:
28″ round delineator – this is a 28″ post with either 2 or 3 white reflective strips to catch the attention of motorists, and it includes its own base.
36″ round delineator – a post which is 36″ in height, with 2 or 3 white reflective strips and a solid black base for anchoring.
36″ flexi-guide delineator posts – the tremendous flexibility comes from polyurethane, and visibility comes from white reflective strips.
tubular flat-top delineator – a surface-mounted anchor holds this 36″ tubular post in place, which comes in one of three bright colors.
highway surface-mount delineator – approximately 30″ tall, with surface-mounted anchor, and weighing in at 3 lbs.
flexible traffic delineator – post material is polyethylene, hinge material is natural rubber, and base material is polycarbonate.
yellow city post delineator – a 36″ yellow post with yellow strips for high visibility
white city post delineator – post is 36″ tall, with white strips for strong visibility
orange city post delineator – easy replacement, superior durability, orange posts with white strips for maximum reflectivity.
There are many different situations where traffic delineators can prove invaluable in maintaining a proper flow of transit, while helping motorists avoid hazards. When used as temporary barriers, dividers prevent transit from entering into areas which have been cordoned off, or to provide specific directions to motorists for a limited time period. When the condition has been improved and the hazard has been removed, it can be easily taken down, and some can even be wheeled away from the location where they were used.
Sometimes these are used as bollards, so as to slow down vehicles which travel at high speed. There are both movable and fixed bollards, and the fixed ones are used to create a temporary wall around some specific object or some area. These are often used to protect road workers while the flow of vehicles continues to move all around them. The movable bollards are installed in areas for use as a kind of gate which prevents the high-speed entry of any vehicle.
When used as wedge barriers, dividers are often made of steel and are of course, shaped like a wedge. They have the ability to absorb the shock of an automobile crash without themselves being destroyed. They are generally placed in areas where the likelihood of high-speed transit is greater. Delineators are also sometimes used as beam barriers, which are flexible in nature and can be vertically or horizontally displaced as needed. These kinds of barriers require a hydraulic system to control the exit and entry points at specific locations which are kept secure. These durable barriers are generally used to control gate-keeping in areas such as parking lots, for instance to allow fees to be collected.
The last type of usage for these is as a barricade light, and these are generally LED-based with very high visibility, especially at night. They are used so as to provide a warning to drivers when lighting is poor, but where certain areas must be avoided by drivers. They have been proven to be very effective at helping motorists avoid accidents because of their superior lighting capability,.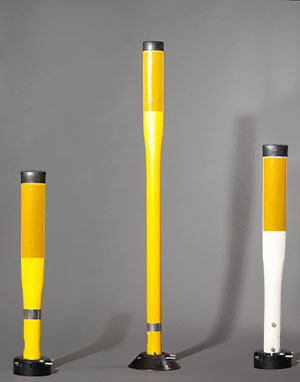 Making Use of Traffic Delineators
Traffic delineators have a number of valuable uses, primarily to alert motorists to the presence of hazards up ahead or to direct them away from such hazards. They are durable, and can be anchored so as to resist strong winds and storms, while still being lightweight and portable themselves. If your agency or organization has a need for transit delineators, you should contact us at Worksafe Traffic Control Industries, to obtain the best quality options at the most affordable prices.