Yield Signs for Sale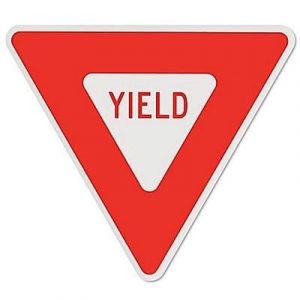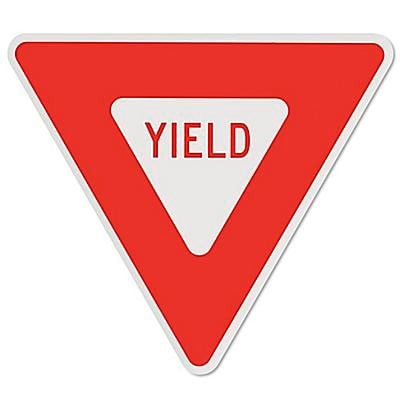 Types of Yield Signs Available
As far as the design goes, there is only one legal type of yield sign available. However, we do offer these signs in different sizes and reflectivity. Depending on your needs, you can buy a 24, 30, or 36-inch yield sign. There are three reflectivity options, including:
High-Intensity – This option is ideal for areas where lighting may affect how well headlights illuminate the sign. High-intensity signs are 10 times more reflective than engineer-grade, and they'll last up to 10 years with normal wear and tear. Most cities and counties use high-intensity surfaces for almost all yield signs.
Diamond Grade – If there are intersections or on-ramps with lots of traffic, you need a diamond-grade yield sign. This option is the most reflective and the easiest for drivers to see in virtually any condition. Many construction sites also use diamond-grade yield signs at spots where machinery or trucks may be merging onto the road.
The WorkSafe TCI Difference
When buying traffic signs, it's crucial to stay MUTCD compliant. Although these signs are pretty standard no matter where you go, WorkSafe TCI is the best option for your city or municipality. Here are some reasons why you should trust us:
Fast Turnaround Times – Whether a yield sign gets damaged in a collision or you need to replace an old model, we can deliver a new sign in less than seven days. Rush orders are also available when possible.
Decades of Experience – We've been supplying road signs to local government agencies for years. So, we know what to do and how to stay compliant.
Guaranteed Quality – No matter which reflectivity you choose, you can feel confident that the sign will be sturdy and reliable for years to come.
How to Identify a Yield Sign?
A yield sign marks intersections where drivers must yield to pedestrians or vehicles coming from another direction. Usually, these signs indicate where drivers will merge into a lane. The goal of a yield sign is to warn drivers that there may be oncoming traffic that does not have to stop or yield to them.
In the United States, yield signs are shaped like an upside-down triangle, with a white border, red interior, and a white triangle with the word "yield" written in red in the center.
Why are Yield Signs Vital?
Overall, failure to yield collisions account for about 15 percent of all traffic accidents in the United States. According to the Insurance Information Institute, nearly half (7.3 percent) of those incidents are fatal. So, placing highly-reflective signage in the right spots can help curb this statistic and save lives.
Where to Place Yield Signs
Here is a rundown of the guidelines on where and how to place yield signs, according to the Manual on Uniform Traffic Control Devices (MUTCD).
Yield signs must always be placed before the right of way at a roundabout intersection.
If the visibility of the yield sign is limited, a "yield sign ahead" marker must be placed before it.
Yield signs must be placed as close to the intersection as possible without limiting its visibility. The purpose of this guideline is to prevent driver confusion if the sign is put too far back.
These signs need to be on the right side of the road unless multiple lanes are merging at once. In this case, one sign will go on either side of the road.
No other signage should be mounted on the same pole as a yield sign. The only exception is a "Do Not Enter" sign on the opposite side (where applicable).