Stop Signs for Sale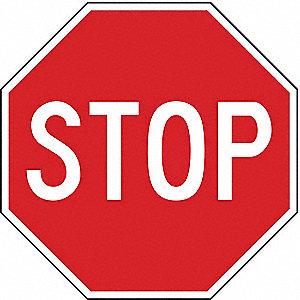 Types of Stop Signs Available
To be MUTCD-compliant, you must only use one design and shape for all stop signs. However, at WorkSafe TCI, we offer signs of different sizes and graded reflective capabilities. You can purchase signs as small as 12″ by 12″ or as large as 36″ by 36″. When it comes to reflectivity, you can choose between the following:
High-Intensity – This option is the most common for cities and municipalities, thanks to its incredible reflectivity. On average, high-intensity signs are up to 10 times brighter than engineer-grade versions, and they last up to 10 years under moderate weather conditions. Although these signs are a bit more expensive, they will help keep the streets safe.
Diamond-Grade – Even with stop signs and stop lights, some intersections can still experience quite a view collisions and incidents. If you want to help minimize these crashes, you can upgrade to diamond-grade signage. This coating is four times more reflective than high-intensity signs, and it will deliver the best results possible.
Why are Stop Signs Vital?
According to traffic data, there are an average of 700,000 vehicle collisions and incidents that occur at stop signs every year in the United States. Often, these accidents occur because drivers either don't see the sign or don't follow it. So, having high-quality stop signs at intersections can help lower this number and potentially save lives.
How to Identify a Stop Sign
A stop sign is one of the most common traffic signs available. This sign is often placed at intersections or areas where traffic merges or crosses. According to the Manual on Uniform Traffic Control Devices (MUTCD), stop signs must be octagonal and have a red background with the word STOP written in white. There must also be a white border. There may be a supplemental sign in some cases, such as "2-way" or "4-way. These additional notifications indicate the number of stop signs at the intersection.
Warning Indicators to Replace an Old Stop Sign
Because stop signs are so prevalent, it's crucial to maintain them and replace them as necessary. As we mentioned, standard signs can last between seven and 10 years. Ideally, you'll be able to rotate signs in different areas so that you don't have to replace them all at once. Also, some areas may experience more wear and tear than others (i.e., snow and ice or vandalism).
Here are some ways to tell if an old sign needs replacing:
Illegible Writing – If it's hard to tell that the sign says STOP, you need to get a new one as soon as possible to stay MUTCD compliant. The octagon shape can still warn drivers, but it's not as effective.
Visibility Issues at Night – One problem with engineer-grade coatings is that they don't reflect as well when illuminated by streetlights. So, if your sign isn't lighting up when a car approaches, you may need to replace it.
Worn or Damaged Sign – Even if you can read the sign, wear and tear will eventually cause too much corrosion. Damaged signs should be replaced, not repaired.
The WorkSafe TCI Difference
Stop signs are an integral part of your traffic control system. So, you need to rely on a high-quality company that knows what it's doing. Here are the top reasons to let WorkSafe TCI handle your signage:
Decades of Experience – We've been delivering stop signs and other signage to local governments for years, so we're well aware of compliance regulations and requirements.
Fast Results – You can't afford to wait weeks for a new sign. Most of our orders get delivered within seven days or less. We can also accommodate rush orders.
Guaranteed Results – Feel confident in your new stop signs and appreciate the fact that you won't have to replace them for years to come.