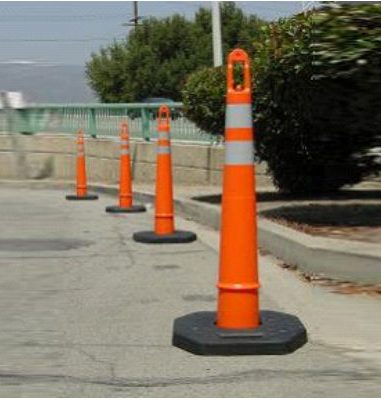 Road Cone & Drum Rental
If you need objects that are going to clearly demarcate certain areas of a job site, direct traffic to certain areas, or mark hazards, then you need to take advantage of cones and drums. These are some of the most useful objects no matter what the job is. For this reason, it is a good idea for all contractors and businesses to note some of the most common cones and drums that are available today.
What Types of Cones & Drums are Available to Rent?
Traffic cones and channelizing drums are seen just about everywhere yet they are also a bit underappreciated. Most people notice these objects when they are frustrated about the traffic jam they are stuck in; however, they play a very important role. Traffic cones and drums are used to direct traffic away from certain hazards, let drivers know that people are working or that children are playing nearby, or that there is construction taking place in the nearby area.
At the same time, those who need cones and drums should note that there are lots of options from which to choose. Some of the options when it comes to cones and drums include:
Traffic and Safety Cones: Traffic cones are among the most basic options that are available today. These cones are usually made from recycled material, meaning that they are environmentally friendly. These cones are also designed to retain their color clearly.
They also stand up well in the face of extreme environmental conditions. This includes sun, heat, and cold. These cones can also be used to hold signs, lights, and flags thanks to a hole in the top. These are found at almost every job site.
Channeling Drums: This is another popular option when it comes to job sites. These drums are designed to be incredibly rugged and sturdy. These should be used in places where an impact might be likely.
They are ideal for freeways and highways because there are a lot of vehicles in the area that could be moving at high speeds. Even though these are not a form of positive protection, they are reflective and come with weights to ensure they are spotted easily. These drums can direct traffic away from construction workers.
These are just a few of the broad categories when it comes to cones and drums. It is a good idea for everyone to be familiar with a few specific options so that they can make the right decision for their needs. What are some of the specific types of cones and drums that are available to be rented?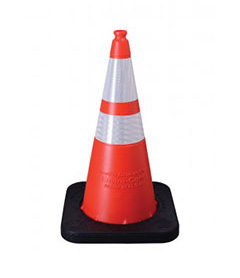 3 Cones & Drums for Rent
If you are looking for traffic cones and drums, the need to be familiar with the various options available. Some of the most common options include:
The 28" Traffic Cone: This is one of the most common road cones on the market. It is made from mostly recycled material and can be recycled again, making it environmentally friendly. It is usually made with light, low-density polyethylene.
This means that it is durable enough to withstand a variety of environmental conditions. This cone also comes with reflective colors, making it easy to spot. The colors also retain well.
The Safety Cone: Slightly larger, safety road cones are also called sport cones. They come with cone collars and can be imprinted. They have a wide body, meaning they stand up easily, and they have a T-top.
These cones are designed to hold signs, lights, and other signals. The stripes on the cones reflect easily, allowing them to be spotted quickly at night.
Drums: Channeling drums are among the most durable options in the market. They are designed to resist impacts, are re-shapable, and come with reflective strips. They can also be surrounded by sandbags and are usually made from recycled material. They are commonly found in areas where vehicles travel at high speeds.
These are just a few of the most common options that are available. You need to make sure that you work with a professional who can help you find the right traffic cone or drum for your needs.

What are the Benefits of Renting Cones & Drums Over Purchasing?
If you are looking for traffic cones and drums, then you are probably trying to decide whether you should rent or buy this equipment. There are several advantages that come with renting this equipment. Some of the biggest advantages include:
Renting this equipment is significantly cheaper than buying it. Particularly for someone who is only going to use this equipment periodically, it is not worth having to buy this equipment. Over time, the equipment is going to get worn out and break down.
Then, you will simply have to replace it. Instead, save money by renting the equipment from experienced providers. There are specialty companies that put a lot of time and effort into making sure that this equipment well-maintained. You can take advantage of this low cost.
When you decide to rent the equipment instead of buying it, you also do not have to worry about storing it when you are done using it. Traffic cones are much larger than people realize. As a result, it can cost a lot of money to store this equipment properly.
It could be a challenge to find a warehouse or storage unit with the right conditions. Furthermore, if you do not store it properly, and this equipment could wear out, adding to your expenses.
Finally, you might work different projects that each require different types of equipment. Even if you have jobs that come up on a regular basis, they might require different types of cones and drums.
You do not want to have to purchase new equipment for each separate job. This will simply add to your expenses. Instead, rent the equipment from a specialist.
These are a few of the biggest advantages of renting traffic cones and drums instead of buying them. If you are looking for high-quality traffic cones and drums, then you need to make sure that you partner with someone who has connections throughout the industry you can get you the best deal possible. That is where we can help.
Where Can I Buy Cones & Drums?
If you are looking for traffic cone rental services, then look no further than Worksafe Traffic Control Industries, Inc. At Worksafe Traffic Control Industries, Inc., we have placed the needs of our clients ahead of our own from the first day we opened our doors. We provide a wide variety of products and services to those in the construction and traffic control industry.
We have worked hard to foster connections with some of the top providers in the field because we know that this allows us to provide you with the high-quality products and services that you deserve. If you would like to learn more about how Worksafe Traffic Control Industries, Inc. can help you with your next job, then give us a call today! We would be honored to help you with all your traffic cone rental needs!