Do Not Pass Signs for Sale
Types of Do Not Pass Signs Available
The phrase "do not pass" is only one option. Some other signs include: 
Pass With Care

 – This sign notifies drivers that visibility may be limited while passing, so they should take extra care when doing so. Typically, this sign works best in merging areas where vehicles may be approaching from multiple directions. 

No Passing Zone

 – If you need to mark off a specific stretch of the road, it's often best to use no passing zone signs instead to mark the beginning and end of the section. 

Stay In Lane

 – Sometimes, passing can be dangerous even when multiple lanes are available. This sign notifies drivers that they shouldn't attempt to switch lanes until it's safe to do so.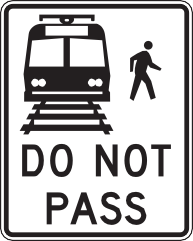 In each case, the sign uses black lettering on a white background with a black border. In some instances, you may need to add a specific distance at the bottom of the sign, such as "Next 1000 Feet." These Signs are made with a 10-year life on aluminum with HIP sheeting. 
Where to Place Do Not Pass Signs
According to the Manual of Uniform Traffic Code Devices (MUTCD), you should place do not pass signs at the onset of an area where passing would be dangerous. If this zone extends for a while, you can put intermittent signs until it finishes. However, you don't have to place a sign to mark the end of the zone. 
That said, if you need to notify drivers of a specific distance in which passing is not allowed, we recommend putting that on the sign, such as "next 1/2 mile."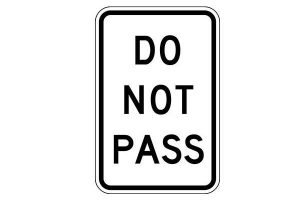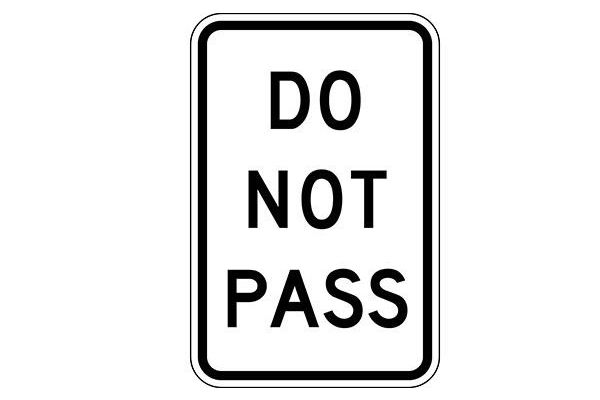 What is a Do Not Pass Sign?
The purpose of a do not pass sign is to notify drivers that passing is either dangerous or prohibited. For example, passing on a two-lane road is hazardous if drivers cannot see oncoming traffic. 
These signs may instead place some restrictions, such as passing on the right or no truck passing. The specific phrasing for the sign depends on the situation and where it's located. 
Why are Do Not Pass Signs Important?
Passing is a natural part of driving, especially on multi-lane roads, highways, and freeways. However, there are many locations where passing can be potentially dangerous or fatal. These signs can help prevent accidents and collisions at these points, such as: 
Bridges 

– Illegal passing is especially hazardous on a bridge because there is often no shoulder for oncoming traffic. So, if a car tries to pass and swerves into the oncoming lane, a collision is more likely. 

Curves and Bends 

– What matters is the angle of the curve. If the road bends in the driver's direction, they can see cars coming the opposite way. However, passing is highly dangerous if the street curves the other way. 

Divided Streets and Highways

 – Sometimes, the danger of passing is not from other cars but obstacles. Divided roads usually have a concrete strip in the middle, which can damage cars trying to pass. 
The WorkSafe TCI Difference
Whether you need do not pass signs or other traffic indicators, WorkSafe TCI has you covered. We've been in this industry for decades, so we know what it takes to make high-quality signage for all situations. Some top reasons to work with us include: 
Personalized Attention

 – We value all of our clients, and we make sure that you're more than satisfied. 

Fast Turnaround Times

 – Most of our orders are completed within a week or less. 

MUTCD Compliant

 – We make sure that all signs are legal and comply with all regulations.